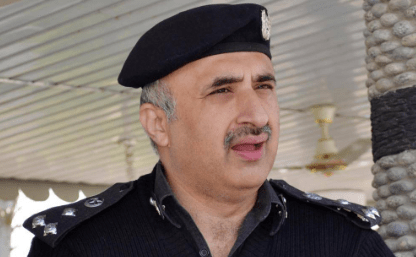 Akhtar Hayat Khan, the Inspector General of Police (IG) for Khyber Pakhtunkhwa (KP), has emphasized that the surge in terrorism incidents within the region is closely linked to the situation in Afghanistan. He revealed that a significant portion of the terrorism cases have been successfully tracked back, revealing that a substantial number of suicide bombers originate from Afghanistan.
Speaking at an event in Peshawar, IG Akhtar Hayat highlighted the comprehensive efforts undertaken to uncover the origins of these terrorism cases, which subsequently unveiled a predominant involvement of individuals from Afghanistan in executing suicide bombing incidents. The matter of transnational terrorism has been earnestly deliberated with federal authorities.
Also Read: Nowshera: Lady doctor alleges harassment and assault by colleagues
Akhtar Hayat further elaborated that the insurgents procured advanced thermal weaponry from Afghanistan, leading to a pivotal change in their attack strategies. In response to this evolving threat, modern thermal weaponry has been provided to law enforcement agencies, including police stations and outposts, effectively thwarting numerous attempted attacks. It has been observed that suicide attacks have escalated over the past month, prompting the apprehension of those implicated in aiding and abetting terrorists.
The IG of Khyber Pakhtunkhwa underscored the indispensable role of intelligence operations within the Counter-Terrorism Department (CTD). Notably, timely intelligence sharing averted major catastrophes in incidents involving Bara Compound and Ali Masjid. Such proactive measures have been instrumental in minimizing potential destruction and ensuring public safety.
Hits: 17