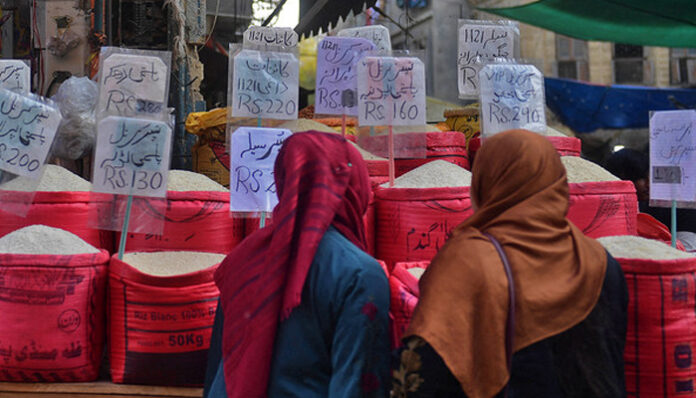 Hudaibia Iftikhar
Once, the routine in our home began with the morning TV, but now, we dread switching it on, fearing the government's overnight inflation shocks," lamented Noreen Iqbal of Nowshera, a housewife whose concerns echo those of countless women grappling with inflation.
Noreen Iqbal pointed out that in the past, price increases occurred every few months, typically a mere 1 to 2 rupees, which could be managed. However, today, inflation headlines are a daily ordeal, leaving her bewildered about managing household expenses. Money arrives, but its vanishing act remains a mystery.
Currently, Pakistanis are wrestling with relentless, economy-busting inflation. This inflationary storm has long battered the nation, doubling the cost of everything and bewildering its people.
Also Read: Poor Exam Results Raise Questions About Government School Quality in KP
Noreen Iqbal likened the relentless inflation to a mental health crisis. Her children still desire good food, but their wallets no longer permit costly purchases due to inflation.
She added that her husband's income now barely covers household expenses, leaving no room for saving for their children's school fees. Delays in paying these fees result in school administrations scolding the children, causing them to lose interest in education.
The escalating fees of private schools are forcing parents to contemplate pulling their children out of educational institutions.
According to the Institute of Statistics, inflation in 2023 has surged by 27.38% compared to the previous year. Economists predict further price hikes for petrol and diesel in the coming months. These petroleum product price increases directly impact food costs, compounding people's hardships.
Reflecting on the recent inflation wave, Sadia, another woman, shared, "We once had two cars, but when my husband lost his job, we sold one car and ventured into business. It covered our household expenses, and we enjoyed a prosperous life. However, as inflation tightened its grip, our troubles mounted."
She recounted how skyrocketing food prices made it difficult to make ends meet. With petrol prices soaring, even driving has become a luxury. They opted to sell their second car to meet household needs instead of keeping it as a mere showpiece.
Sadia noted that when the electricity bill arrives, every penny goes toward settling it, leaving nothing for household essentials.
The people continue to implore the government to take action against inflation, staging protests and processions. However, government officials' statements asserting that inflation reduction is still a few months away only increase anxiety, leaving people without a glimmer of hope.
Hits: 6