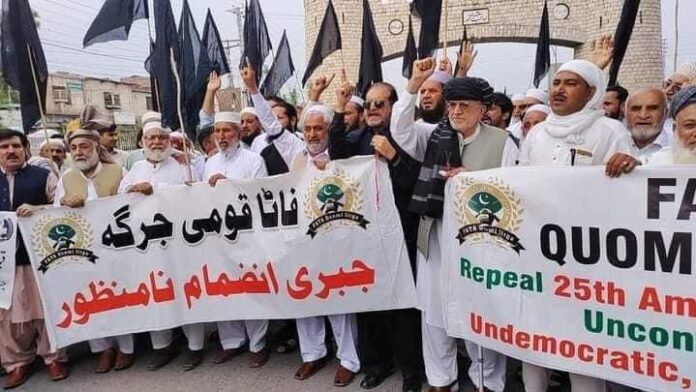 A rally was organized in the Khyber district to protest against the integration of the Federally Administered Tribal Areas (FATA) into the Khyber Pakhtunkhwa province.
Malik Bismillah Khan Afridi, a prominent participant in the rally, expressed his grievances stating that on May 31, 2018, the tribal areas were forcefully merged into Khyber Pakhtunkhwa, disregarding tribal customs and traditions. Consequently, this day is now observed as Black Day every year.
The rally commenced from the Jamrud Tehsil Office and proceeded towards the historic Bab-e-Khyber and Jamrud Press Club. Leaders of the FATA Qaumi Jirga, a movement opposing the FATA merger, actively took part in the rally. The participants displayed black flags and banners with slogans condemning the merger.
Also Read: Blasphemy Accused Sentenced to Death by Mardan Anti-Terrorism Court
Leaders representing various tribal areas participated in large numbers. Among them were Malik Bismillah Khan Afridi, the Chairman of FATA Qaumi Jirga, as well as Malik Khan Marjan Wazir, Azam Khan Mehsud, Malik Khan Muhammad Afridi, Malik Muhammad Hussain Afridi, Malik Abdul Zahir Afridi, Malik Abdul Rehman, Malik Ghulam Qadir, Malik Hakeem, Malik Noor Syed, Nawabzada Fazal Karim Afridi, Malik Wilayat Shah Mania Khel, Malik Tamash Shalmani, Malik Sardar Azam Afridi, and Syed Kabir Afridi, among others.
They expressed their discontent with the forced annexation of tribal areas into Khyber Pakhtunkhwa province without consulting the tribal people, which resulted in the erosion of their traditions.
They demanded the repeal of the 25th constitutional amendment, the restoration of FATA's separate status, and the revival of the traditional Jirga system, as the current police and patwari system do not align with the tribal people's values.
Moreover, they highlighted that the promises made during the FATA merger process remained unfulfilled. The tribal areas did not receive the promised annual allocation of 110 billion rupees, nor did they receive a three percent share of the NFC (National Finance Commission) award. The pledged creation of 25,000 levies jobs, doubling of student quotas and scholarships, and the establishment of FATA as a tax-free zone were also left unattended. Instead, they alleged that their assets, resources, minerals, forests, mountains, and lands were unlawfully occupied.
Furthermore, they mentioned that a legal case has been filed against the FATA merger in court, indicating their determination to challenge the integration and seek redress for their grievances.
Hits: 7