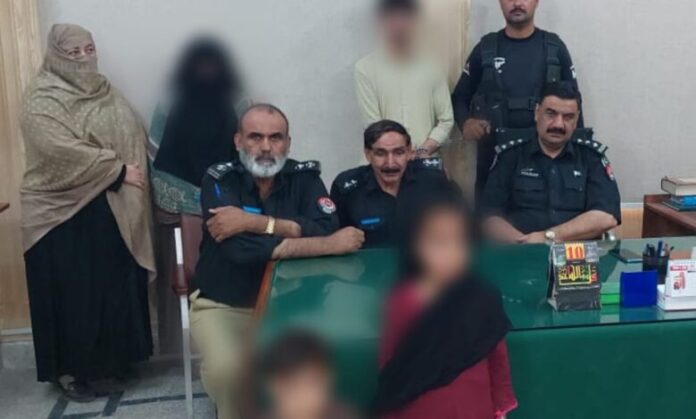 Basit Gillani
The Kohat Police have successfully recovered a woman and her two children, who were abducted four months ago, from Karachi. Additionally, the alleged kidnapper has been apprehended.
According to Islamuddin, the Station House Officer (SHO) of Riaz Shaheed Police Station, the incident was reported on March 15, 2023, by a citizen named Zaheen Khan. He stated that his wife was allured by Naveed Khan, a resident of their village. Later, Naveed kidnapped the woman and disappeared.
Upon receiving the report, the police initiated an investigation. Despite the accused continuously changing his phone number, the police made persistent efforts to trace him. Eventually, a special team was formed and dispatched to Karachi to aid in the search.
Also Read: Five-Year-Old Girl Brutally Murdered in Swabi; Accused Arrested by Police
The operation in Karachi proved successful, resulting in the arrest of the accused and the safe recovery of the woman and her two children, aged 5 years and 2 years, respectively. They were subsequently transferred to Kohat.
The police have taken custody of the accused for further investigation. Zaheen Khan, the woman's husband, stated that the accused, Naveed, is from their village. He had somehow deceived and abducted his wife. The initial missing person report was filed, and upon receiving information, the police were able to recover the woman successfully.
The woman and her children have been sent to Darul Aman, a shelter home, while the investigation into the accused continues.
Hits: 24