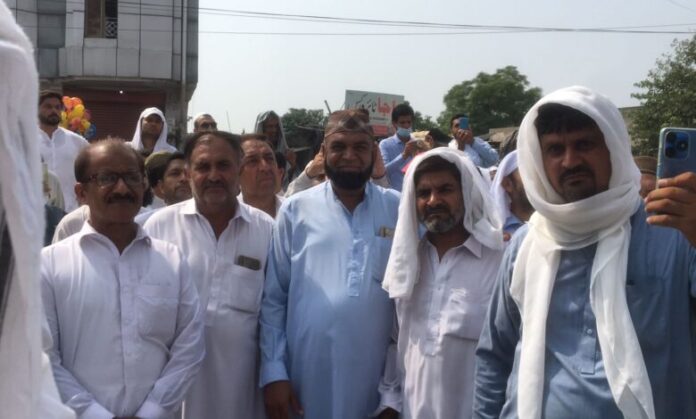 Abdul Sattar
Government school teachers in Khyber Pakhtunkhwa (KP) organized protests in front of press clubs throughout the province, responding to the Teachers Alliance's call to advocate for their demands. One such peaceful demonstration took place in front of the Mardan Press Club on Shamsi Road, facilitated by the Government Teacher Alliance.
During the protest, teachers temporarily left their classrooms, causing a road blockade that affected all traffic. The demonstration was led by Niaz Ali Khattak, the Provincial General Secretary of the Government Teacher Alliance, alongside Hafiz Inamur Rehman, District Chairman of the organization, Usman of 'Malgari Ustazan,' Hafiz Zubair Ikram Bacha, a leader of the Principal Association, and numerous other participating teachers.
The protesting teachers carried placards displaying slogans in support of their demands and chanted slogans to emphasize their cause. Niaz Ali Khattak, the Provincial General Secretary of the Government Teacher Alliance, voiced their concerns, highlighting that the previous provincial government had approved teacher upgradation in the cabinet, yet the implementation and notification of this decision are still pending.
Also Read: Tragic Car Accident Claims Lives of Four Family Members in Shangla
Khattak urged the caretaker provincial government to promptly issue the notification for teacher upgradation. He also called for the elimination of unjust pension terms and the regularization of ad hoc teachers.
Additionally, Khattak pointed out that the education department officials have been imposing promotions on teachers against their will. He demanded the withdrawal of this decision. Khattak warned that if the caretaker provincial government does not address the teachers' concerns promptly, teachers will initiate a class boycott movement every Tuesday from September 20.
Furthermore, if the government fails to meet their demands, the teachers will announce the closure of government schools across the entire province during a press conference in Peshawar on October 3.
Hits: 24