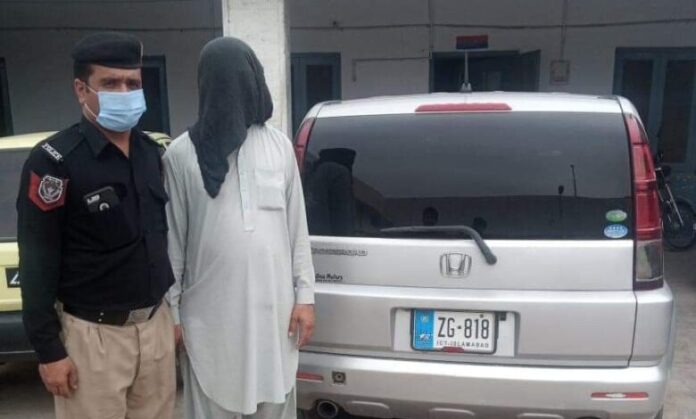 Zeeshan Kakakhel
Despite extensive efforts, Khyber Pakhtunkhwa (KP) continues to struggle with drug trafficking. Law enforcement agencies in the province have been actively engaged in operations against drug dealers and users, but the criminals have adapted and found new ways to smuggle drugs, leading to an increase in cases.
Officials from the Excise Department highlight the presence of organized groups involved in smuggling drugs from KP to other provinces. These criminals employ various methods and disguises to evade suspicion and transport drugs. In light of recent incidents, the Excise, Police, and Anti-Narcotics officials have heightened their vigilance to tackle this issue.
The accused have become increasingly sophisticated, adopting methods that law enforcement agencies would never suspect. Surprisingly, there have been cases where drug smugglers were apprehended while impersonating security agency personnel or even posing as police officers. Such instances are not only alarming but also pose a significant threat.
Also Read: Fact-Check: Panic Spread by Fake Voice Messages in Swat
One notable incident took place on April 21, 2023, when an accused disguised as a high-ranking officer wearing the uniform of a security agency was arrested by the Mardan Excise Police Station. He was transporting 60 kilograms of hashish packed in five sacks, with a street value of millions of rupees, to other provinces.
The arrested individual, Iqbal, confessed to his involvement and revealed that he had successfully smuggled drugs using the same method multiple times in the past. He believed that wearing the uniform of the Pakistan Army provided him with impunity and reduced the chances of being caught or suspected.
Muhammad Riaz, the Station House Officer (SHO) of the Excise Police Station in Mardan, emphasizes that cross-dressing drug smuggling cases are prominent in Mardan, Charsadda, and neighboring areas. Drug trafficking networks exploit the proximity to Afghanistan and the former tribal districts, using motorways or GT roads for transportation until they are intercepted.
In another incident in June 2022, the Chamkani police station in Peshawar arrested an individual from Multan who was smuggling drugs disguised as a passenger. Substantial quantities of hashish were recovered during the operation.
Similarly, in 2020, an operation in the Alpuri area of district Shangla led to the recovery of drugs from a government vehicle. The accused, Shams al-Qamar, had posed as a senior officer of the Police Services Group of Pakistan. His suspicious behavior led to a search, revealing his involvement in drug smuggling.
These incidents illustrate the challenges faced by law enforcement agencies in combating drug trafficking in KP. The criminals' ability to exploit loopholes and disguise themselves highlights the need for enhanced strategies and coordination among agencies to effectively counter this illicit trade.
Drug Cases and Punishment
A concerning report submitted by the Excise Department to the Home Department reveals the rampant smuggling of drugs in Khyber Pakhtunkhwa over the past seven years. The document compiled by the Interior Department highlights a significant surge in drug use and trafficking cases within the province. Disturbingly, between 2017 and 2022, there has been a staggering 150 percent increase in marijuana trafficking and use.
The report further indicates a 200 percent rise in heroin-related incidents, a 250 percent surge in opium cases, and an alarming increase in the abuse of ice and alcohol. For instance, in 2017, law enforcement authorities seized 964 kilograms of hashish from the possession of suspects, a figure that skyrocketed to 2,741 kilograms in 2022.
Six years ago, there were 56 kilograms of heroin recovery cases, but in 2022, this number jumped to 314 kilograms. Over the course of 2017 to 2022, a staggering 82 kilograms of ice, worth millions of rupees, were seized. According to the report submitted to the Home Department, a total of 1,243 cases have been registered, leading to the arrest of 1,381 individuals thus far.
However, it is a matter of concern that a significant number of suspects arrested in drug cases manage to evade punishment, contributing to the ongoing drug trafficking problem. This lack of stringent consequences for offenders serves as a deterrent to curbing drug smuggling activities effectively.
Rehabilitation Programs for Drug Addicts
In an effort to make Khyber Pakhtunkhwa a drug-free region, the government initiated a drug rehabilitation program in Peshawar. For the first phase of the program, the Khyber Pakhtunkhwa government allocated Rs 10 crore. The Deputy Commissioner's Office took the initiative to provide a weekly menu schedule for meals in all the rehabilitation centers, ensuring that drug addicts would not have to suffer during their recovery process.
Sources within the Deputy Commissioner's Office reveal that the program was initially intended to expand beyond Peshawar and encompass the entire province. However, due to insufficient funds and various other reasons, the project could not be extended further.
It was reported that drug addicts were picked up from the streets, intersections, and under bridges of Peshawar and transferred to rehabilitation centers, where efforts were made to transform them into responsible citizens. During that time, the project achieved around 80 percent success, according to sources. Unfortunately, due to the lack of funds and the transition to a caretaker government, the project has suffered setbacks.
Sources indicate that the non-availability of funds has prevented the organization of significant programs to reintegrate the rehabilitated addicts back into their families upon completing phase 2 of the rehabilitation program.
According to a social welfare officer, approximately 1,300 individuals were rehabilitated during the drug-free campaign. However, it was disheartening to discover that more than 1,000 of them had relapsed into drug addiction. This not only wasted government resources but also hindered the ultimate goal of the drug rehabilitation project. Sources attribute this setback to the hurried implementation of the project and the lack of proper follow-up and support for the patients or drug addicts after their treatment, leading to their relapse into addiction.
Waste of Money, Lack of Planning
Sources reveal that instead of utilizing government rehabilitation institutions, the government entrusted the responsibility of rehabilitating drug addicts to private institutions.
Astonishingly, a significantly higher amount of money was spent per patient in these private institutions, yielding unsatisfactory results. It has been reported that six private institutions were assigned the task of rehabilitating drug addicts, with a cost of 30,000 rupees per patient per month.
Government Drug Rehabilitation Centers: Ensuring Effective Recovery
Jawad, the in-charge of the Government Drug Rehabilitation Center in Faqirabad, Peshawar, successfully rehabilitated all 210 individuals assigned to him during the drug-free Peshawar campaign.
He emphasizes that forced rehabilitation is not favored by most people, as there is a high likelihood of relapse in such cases. Jawad has witnessed numerous instances where individuals who were forcefully rehabilitated eventually returned to drug use.
Currently, his rehabilitation center is treating 48 patients, and efforts toward their recovery are underway. However, due to non-payment of funds, new patient admissions have been temporarily halted. Sources suggest that entrusting the responsibility of drug recovery to government agencies would have been more beneficial.
Addressing the Root Cause: Eliminating Drug Trafficking
Health experts assert that efforts to rehabilitate drug addicts and the actions taken by authorities will remain futile unless drug dens are completely eradicated. Dr. Amjad Taqweem, a senior doctor, and general physician, emphasizes that envisioning a drug-free society is impossible without eliminating the source of drug production and supply. By eliminating drug manufacturers and suppliers, the number of drug addicts can naturally decrease.
Kamran Kazmi, an inspector at the Mardan Excise Police Station, highlights the growing sophistication of drug smugglers who are constantly adapting new methods to evade detection. He reveals that these smugglers often impersonate law enforcement officials, including police, the Pakistan Army, and government officials, making it challenging to apprehend them.
Hits: 16