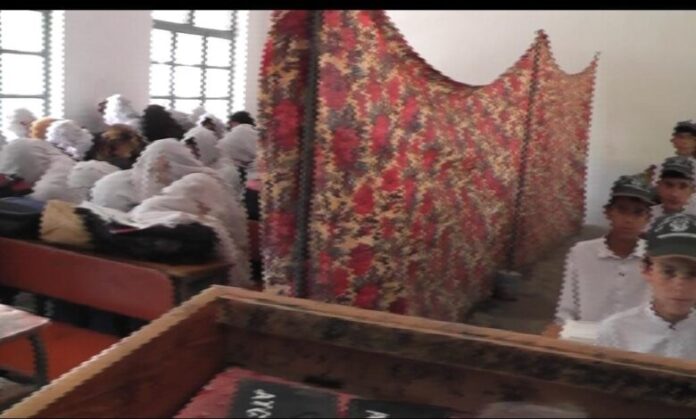 Naseeb Yar Chagharzai
In the Chagharzai tehsil of Buner, the only girls' high school is facing a severe shortage of staff and other facilities, forcing girls in the area to study in boys' high schools. The local population of 150,000 in Chagharzai Tehsil has only one girls' high school, but due to the lack of necessary resources, parents have no choice but to enroll their daughters in boys' schools.
Muhammad Nisar, the in-charge of Government Higher Secondary School Topai, acknowledged that approximately 60% of the girls in the area are studying in boys' schools.
Although he personally opposes this arrangement, he feels compelled to ensure that girls receive an education and are not deprived of learning opportunities. To accommodate gender separation and respect regional customs and veiling traditions, boys and girls are seated separately in the same classroom with a curtain dividing them.
Also Read: Mumtaz Khan Reunites with Family in Pakistan After 53 Years in Iran
Bahrul Uloom, a prominent social and political figure, expressed his disappointment with the state of the education system. He lamented the fact that a population of 150,000 has only one girls' high school, which lacks not only staff but also essential facilities such as a science laboratory.
Salahuddin, a founding activist of the former ruling party Pakistan Tehreek-e-Insaaf in Chagharzai tehsil, blamed the elected representatives for their lack of action in the area. He pointed out that although three girls' middle schools were upgraded in 2017, they are still non-functional. One of these schools, Topai Girls' High School, which was partially destroyed during the Talibanization period in 2009, stands today with half of its building still in ruins. Consequently, girls are compelled to attend boys' schools due to the limited options available.
Mohammad Javed, a teacher who instructs both boys and girls in the same class, emphasized the need for improved facilities in girls' schools. While the boys' schools in their union council have a decent number of students, he believes that providing better resources and amenities to girls' schools would greatly enhance the future prospects of female students.
If the government takes immediate action by providing adequate staff, establishing a science laboratory, and arranging transportation facilities for Girls High School Topai, it would enable all girls in the union council, with a population of at least 31,000, to have equal access to education.
Hits: 10