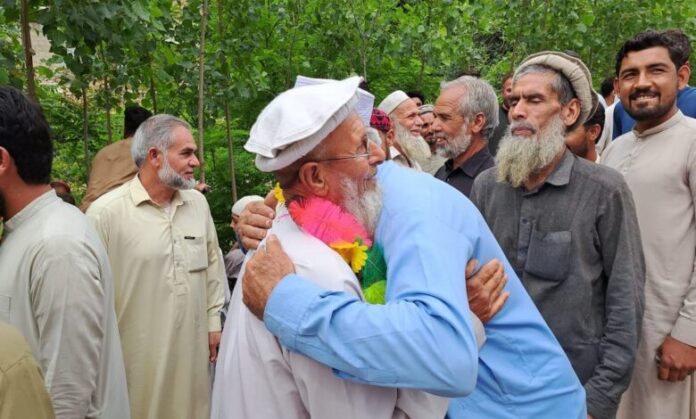 Nasar Zada
Dir Upper's native, Mumtaz Khan, has finally returned to his ancestral village of Dam Jabr after an absence of 53 years in Iran.
Two months ago, Mumtaz Khan shared a heartfelt video message on social media, expressing his desire to meet his long-lost relatives. This sparked the determined efforts of his brothers to bring him back to Pakistan. Today, Mumtaz Khan was joyfully welcomed by the people of the area and his loving relatives upon his arrival in Jabr.
In an exclusive interview with TNN, Mumtaz Khan shared his journey. He revealed that he had initially traveled to Karachi in 1970 for labor purposes, and from there, he ventured to Iran with a few companions, eventually settling down and getting married there.
Also Read: Game-changer: Disqualified politicians regain right to Appeal
Over the course of 53 years, Mumtaz Khan deeply missed his home and relatives, attempting to contact his brothers multiple times but facing unsuccessful attempts. However, it was a resident of Quetta who recorded his video and uploaded it on social media, which ultimately led to his long-awaited reunion with his family.
Reflecting on the changes he witnessed, Mumtaz Khan expressed his astonishment. "When I left the village at the age of 16, it was completely different. Today, at the age of 70, I have returned to find everything transformed. There were no roads back then, and the population was much smaller. Our area resembled a forest."
Mumtaz Khan's brother, Gulab Din, shared his immense joy on this auspicious occasion. "Today is a day of celebration in our house. I am overjoyed as people come to congratulate me because, after 53 years, I have finally found my brother."
To commemorate Mumtaz Khan's homecoming, his relatives happily distributed sweets, marking the end of a long separation and the beginning of a renewed bond with his loved ones.
Hits: 16