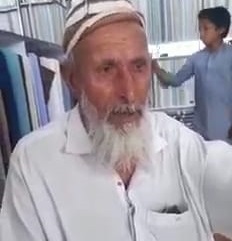 Nasar Zada
The search for Mumtaz Khan, who went missing in 1970 from Dir Upper district of Khyber Pakhtunkhwa, has finally come to an end after a video of him went viral on social media.
In the video, the 73-year-old Khan claimed that he had been living in Iran for the past 50 years and that his ties were mainly from Jabr, Ushirai Dara, an area of Upper Dir. He also mentioned his father, brothers, and relatives, saying that he had been doing the same labor since he came to Iran during Bhutto's era.
Khan's brother, Sher Hasan Khan, spoke to TNN about the discovery, revealing that Mumtaz had gone to Karachi for labor at the age of 14, where he went missing. Despite extensive efforts to locate him, the family was unable to find any trace of him until the recent viral video.
Also Read: WSSP to install flow meters on all tube-wells after successful pilot project
Sher Hasan Khan expressed his happiness about reconnecting with his long-lost brother, stating that the family had initially struggled to believe the video was genuine. However, they contacted the young man from Quetta who made the video and confirmed its authenticity. Now, they are eager to reunite with Mumtaz as soon as possible.
According to Sher Hasan Khan, he was very young when his mother first mentioned that Mumtaz was missing, and they had assumed that he had passed away. However, they are grateful that Allah has blessed him with a long life, and they are looking forward to seeing him again.
Despite the good news, Mumtaz Khan does not have any Pakistani documents or Iranian citizenship, which means that he cannot easily return to Pakistan. His family has therefore appealed to the government of Pakistan to assist them in bringing him back home.
Hits: 28