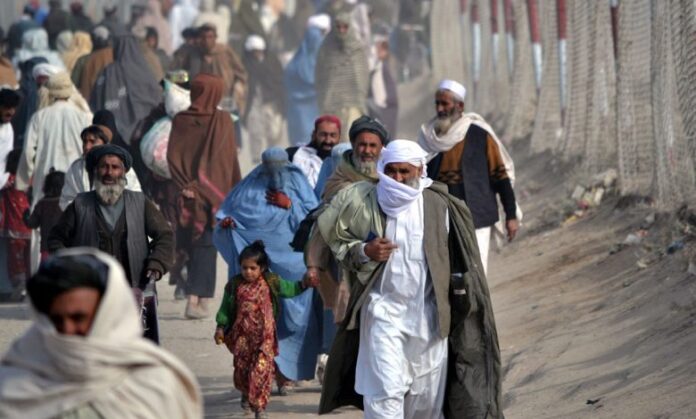 Anwar Khan
A significant number of Afghan nationals, approximately 170,000 individuals, are currently in hiding within Pakistan, according to security sources. This influx of Afghans occurred after the Taliban regime took control of Afghanistan.
According to security sources, approximately 280,000 Afghans entered Pakistan through the Torkham border following the establishment of the Taliban regime in Afghanistan. Out of this number, 110,000 have already returned to Afghanistan, while an estimated 170,000 individuals remain in hiding within Pakistan.
Authorities have expressed concerns about the presence of these illegal Afghan nationals, as there are suspicions of their involvement with foreign militants. The situation is particularly alarming in Khyber Pakhtunkhwa (KP), where most of the hiding Afghans have been identified. Police have been taking intermittent actions against these individuals, and some have even been deported based on court decisions in recent months.
Also Read: Traders Reject 8 PM Market Closure, Demand Involvement in Policy-Making
It has come to light that some of the Afghan nationals in hiding are engaged in illegal activities and acts of sabotage. One such activity is mobile smuggling, where illegal Afghans residing along the Afghan border are involved.
A senior security official, speaking on the condition of anonymity, revealed that operations against Afghans are more prevalent in provinces other than KP. The complex nature of operations in KP is attributed to the fact that many people in the region have familial ties to Afghans and provide them shelter in their homes.
Shahzada Fahad, a journalist from Peshawar, highlights the burden placed on KP, particularly in the city of Peshawar, due to the presence of a large number of Afghan nationals. He urges the government to establish a mechanism to address the issue of illegal refugees or empower the police to take appropriate action.
Fahad emphasizes that having such a substantial number of undocumented individuals in the country poses a security risk not only to the police and security agencies but also to society as a whole. The absence of proper documentation and screening processes raises concerns about potential threats and the need for effective measures to address the situation.
Hits: 46