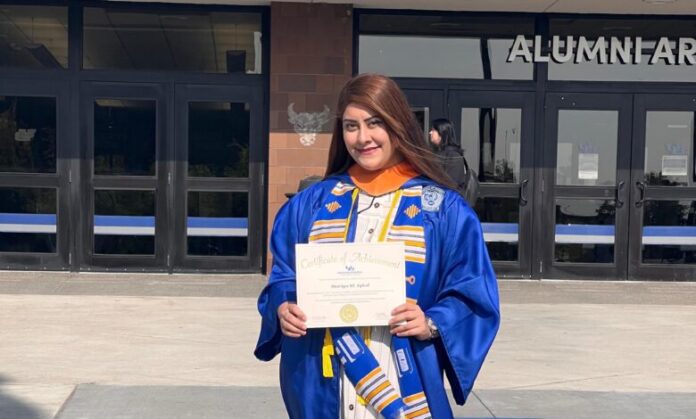 Khalida Niaz
Storya Khan, the sister of Mashal Khan, who tragically lost his life on false charges of blasphemy at Mardan's Abdul Wali Khan University, has achieved a significant milestone by completing her graduation in biomedical engineering. Taking to her Twitter account, Storya Khan proudly shared her success and revealed that she pursued her degree at the University in Buffalo, New York. In a touching gesture, she named her degree in honor of her late brother, Mashal Khan.
The memory of Mashal Khan's brutal murder in 2017, when he was attacked by a furious mob at Abdul Wali Khan University's journalism department in Mardan, remains vivid. However, subsequent investigations by law enforcement agencies confirmed the baseless nature of the blasphemy allegations against him. The primary suspect in the case was initially sentenced to death, later commuted to life imprisonment, while the remaining 25 accused received three-year prison terms.
Mashal Khan's Message of Knowledge and a Father's Pride
Mashal Khan's father, Muhammad Iqbal, expressed his joy and pride in an exclusive interview with TNN following his daughter Storya Khan's graduation. Emphasizing the importance of education in their household, Iqbal revealed that Mashal Khan had always encouraged her sisters to seek knowledge. He shared that Mashal Khan believed that knowledge was about practical and purposeful reflection, inspiring her siblings to pursue education.
Also Read: Over 200 Civil Servants Identified in Violent Protests, Strict Action Promised
Referring to Storya Khan, Iqbal described her as a remarkable young woman who consistently excelled in school and college. He mentioned that Storya Khan was in college at the time of the tragic incident involving Mashal Khan. Despite the immense difficulties and challenges they faced following the incident, Iqbal and his children persevered and continued their educational pursuits, showcasing their resilience and determination.
 Rebuilding Lives After Tragedy: Storya Khan's Journey to Success
Following her college education, Storya Khan applied for a scholarship at Buffalo University, where she underwent an interview and was selected to pursue her studies in New York. Completing her graduation, Storya Khan's achievement brought a glimmer of hope and happiness to the family.
However, the murder of Mashal Khan had a profound impact on their lives. Muhammad Iqbal, Mashal Khan's father, shared the immense sorrow they experienced, not only for the loss of their beloved son but also for the subsequent challenges they faced. Their once prosperous life was marred by grief, and their business suffered setbacks. Despite the hardships, the family remained resilient and determined to move forward.
After six years of perseverance, the tide has turned, and happiness has returned to their household through Storya Khan's accomplishments. Mashal Khan's father expressed his immense joy and stated that the family is now filled with happiness, thanks to Storya Khan's success.
Storya Khan's Academic Journey Shines Amidst Adversity
Despite the distressing incident involving Mashal Khan, Storya Khan's determination remained unwavering," Muhammad Iqbal emphasized. He viewed his daughter's success as a collective achievement, not only for their family but for the entire nation. In their locality, where some parents hesitated to send their daughters to college and university, Storya became an inspiration, motivating others to prioritize their daughters' education. This pursuit of knowledge continues to illuminate their community.
Muhammad Iqbal aspires for all children and youth in Pakistan to embrace the light of knowledge. He believes that education not only holds the key to a brighter future for individuals but also plays a vital role in the country's overall development and progress.
When asked about the impact of the Mashal Khan incident on his daughters, Muhammad Iqbal shared that their morale remained remarkably high. He attributed this resilience partly to Mashal Khan's influence, as he had instilled in them a strong sense of the importance of education and prepared them mentally for their academic journey.
Grief of Mashal Khan's Demise Still Fresh: Father's Words
Muhammad Iqbal shared his ongoing grief over the tragic murder of his son. He revealed that despite the passage of six years, the pain and sorrow remain deeply etched in their hearts. Even today, on the anniversary of Mashal Khan's death, condolence references are held throughout the country, making it impossible for them to forget their beloved son.
Reflecting on the aftermath of the incident, Muhammad Iqbal acknowledged the initial difficulties they faced due to the prevailing misconceptions. However, with the release of the Joint Investigation Team (JIT) report and the subsequent revelation of the truth, some of their challenges were alleviated.
Muhammad Iqbal went on to share the paths his other children have taken since the tragedy. His daughter, Stoori Saba, is currently pursuing journalism studies in Canada. Meanwhile, his son, who had previously served in the Air Force, decided to leave his job due to the potential risks associated with the aftermath of Mashal Khan's murder.
Muhammad Iqbal described Mashal Khan as a spiritual soul who was deeply rooted in Sufi teachings. Mashal, he added, possessed a profound knowledge of languages, including reading the verses of Rehman Baba and studying the Quran with translation. Tragically, he was targeted and killed for the personal agendas of others.
Hits: 60