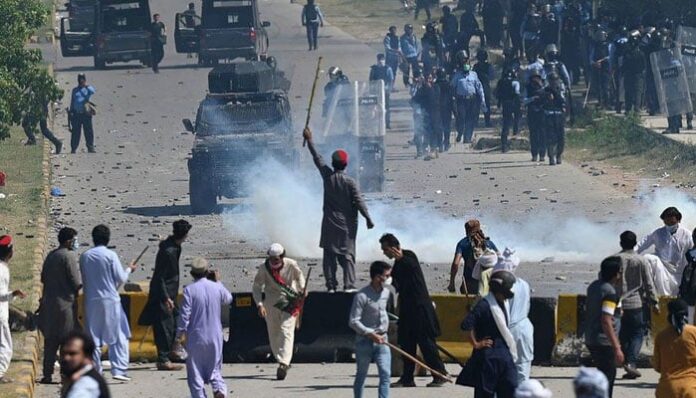 Authorities have identified over 200 civil servants who participated in the violent protests, after the arrest of Imran Khan, and engaged in acts of vandalism in Khyber Pakhtunkhwa. The civil servants involved in the protests belong to various departments such as PDA, education, and health, and their identification has been made possible through the use of CCTV footage.
The police officials have informed the respective departments about the involvement of their employees in the violent protests. The caretaker provincial government has stated that a significant number of civil servants were engaged in the violent protests, and efforts are underway to identify more individuals involved. Strict action will be taken against government employees found guilty of vandalism.
Also Read: Aman Committee Member Killed, Policeman Injured in Swat Gunfight
The Khyber Pakhtunkhwa Police have reported the arrest of over 800 individuals involved in the violent protests on May 9 and 10.
Additionally, 18 FIRs of terrorism have been registered against the protesters. The police report highlights that there are 5 FIRs of terrorism in the Peshawar region, 4 in the Kohat region, and 3 in the Mardan region. Notably, former provincial ministers and assembly members are among the accused individuals.
According to the police, the provincial ministers and most of the assembly members named in the FIRs have been on the run since May 9. The report states that the police have arrested 267 individuals in Peshawar, 216 in Mardan, and 114 in Kohat.
It is important to note that the violent protests and acts of arson took place nationwide on May 9 following Imran Khan's arrest in the 190 million pounds scam. During these clashes, seven protesters were killed, and more than 300 people, including 58 police personnel, sustained injuries.
According to the data, the protesters set fire to a total of 17 vehicles, including 12 government vehicles and an Edhi ambulance, in various areas of the province. Moreover, 15 properties, including 13 government buildings, including Radio Pakistan Peshawar, were also set ablaze during the protests.
Hits: 14