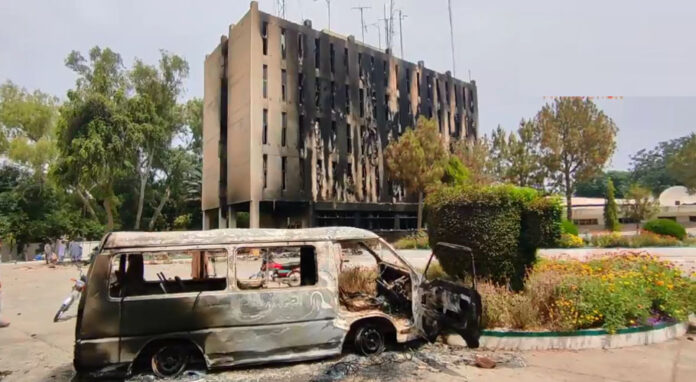 Salma Jahangir
"Da Radio Pakistan dy. De Salma Jahangir na khabroona wawrai." ("This is Radio Pakistan Peshawar. Listen to the news from Salma Jahangir.") These were the words that marked the beginning of my career in radio broadcasting. Little did I know that my voice would one day reach different parts of my province, Khyber Pakhtunkhwa, through radio and captivate the hearts of many listeners.
It was a dream come true when I joined Radio Pakistan Peshawar as a newsreader in July 2007. Working for one of the biggest organizations in the country was an achievement in itself, and I was proud to be a part of it. Over the past 14 years, I have dedicatedly served radio and learned a great deal from this medium.
In 2014, during the Islamabad sit-in, the National Radio broadcast was interrupted, and I got a chance to read news in Pashto from the Peshawar Center. This opened new doors of opportunity for me, and my voice reached different parts of Pakistan, gaining recognition and appreciation. This experience deepened my connection with radio, and I realized the immense impact it has on people's lives.
Also Read: Imran Khan granted bail for two weeks in Al-Qadir Trust Case by IHC
The history of Radio Pakistan Peshawar Center dates back to the pre-first World War era, and its building has an old and rich history.
Radio Pakistan played a significant role in the beautification of Peshawar, and this beautiful memorial building was once a source of pride for all of us. However, on May 10, 2023, miscreants broke into the main gate of Radio Pakistan and set the building on fire. It was heartbreaking to see the building that was once a symbol of our cultural heritage and pride, engulfed in flames.
Radio Pakistan has always been vigilant about its security, and the building had strict security measures in place. Every visitor was thoroughly checked and asked for their name and full address before being allowed inside. Not everyone was allowed inside the radio station, and the security guards were vigilant about any suspicious activity. Therefore, the ease with which the miscreants set the building on fire raises many questions about the perpetrators' motives and their level of expertise.
As a newsreader, the news of the attack on Radio Pakistan came as a shock to me. It was like someone had invaded my home. Seeing the images of the burnt newsroom, where we used to discuss the political and social situation of the country, was heartbreaking. Many of my memories and experiences associated with that newsroom were forever destroyed by the miscreants.
It is unimaginable how a huge building like Radio Pakistan could be set on fire so easily when even lighting a small log requires considerable effort. Common sense dictates that the miscreants were experienced and well-trained individuals with a specific agenda. The attack on Radio Pakistan has not only caused a loss of heritage and history but has also affected the voices of millions of people who relied on this medium to stay informed.
In conclusion, the attack on Radio Pakistan Peshawar is a severe blow to our cultural heritage and our country's media industry. The miscreants responsible for this heinous act must be brought to justice, and measures must be taken to ensure the safety and security of our national treasures.
As a newsreader and a citizen of this country, I hope that we can restore the glory of Radio Pakistan and continue to inform, educate and entertain our listeners through this powerful medium.
Hits: 23