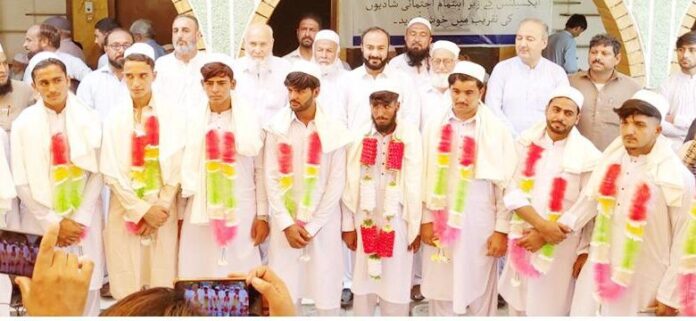 Abdul Sattar
In Mardan, a heartwarming mass marriage ceremony brought together ten underprivileged couples to celebrate the second death anniversary of the renowned journalist Rahimullah Yousafzai. The event took place at the late journalist's residence, where attendees paid their respects to his remarkable journalistic and social contributions.
Speakers at the ceremony hailed the universally recognized achievements of the late Rahimullah Yousafzai, a recipient of the prestigious presidential award. They noted that he approached his professional duties as a mission, combining his journalism career with significant social service efforts.
During his lifetime, Rahimullah Yousafzai arranged 99 mass marriages for impoverished youth in the area. Today, his legacy lives on through his son, Arshad Yousafzai, and senior journalist Mushtaq Yousafzai, who continue his mission by orchestrating mass marriages for ten deserving young couples.
Also Read: Pakistan Responds Firmly to Afghan Border Closure Allegations
In honor of Rahimullah Yousafzai's enduring commitment to his community, the Rahimullah Yousafzai Center for Excellence has been established to carry forward his philanthropic work.
Distinguished individuals including former MPA Sahibzada Rahim Khan Bacha, Prof. Dr. Abdul Hameed Yousafzai, former DG Health Dr. Ayub Roz, and other prominent figures from the region attended the event, reaffirming the importance of Rahimullah Yousafzai's legacy in both journalism and humanitarian efforts.
Hits: 13