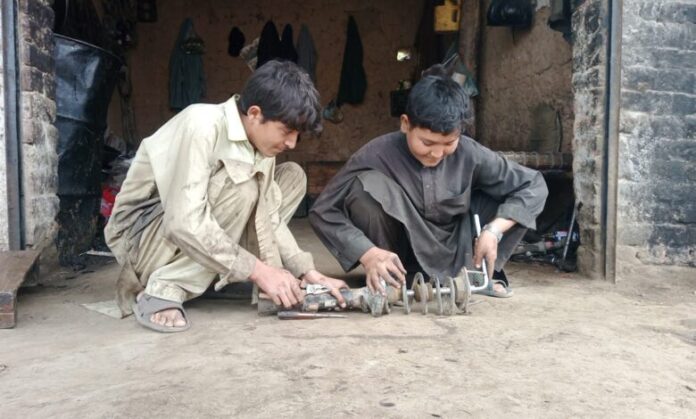 Saeed Badshah Mohmand
"That fateful night marked the end of our desperation. A year ago, as husband and wife, we reluctantly decided to pull our 13-year-old son, Shahab, out of school and put him to work at a hotel. It was a choice born out of necessity, realizing that our son's future would be bleak. I vividly remember that sleepless night, grappling with the weight of our circumstances. How else could we provide for our family of seven? My meager income was insufficient to cover our daily expenses. Perhaps, we thought, combining our son's labor could put two meals on the table."
These poignant words were spoken by Rahmanullah, a 40-year-old laborer hailing from the Barokhel area of Halimzai Tehsil in Mohmand district. He shared that his household comprised his wife, three daughters, and two sons. The youngest son, burdened with physical challenges, added another layer of financial strain due to the lack of funds for his treatment.
The scarcity of consistent employment exacerbated their struggles. On the rare occasions when work was available, the meager wages of 500 to 1000 rupees barely covered the cost of feeding a family of seven in the current era of rampant inflation. Thus, Rahmanullah was compelled to withdraw his eldest child from school in a desperate attempt to prevent the rest of his children from succumbing to hunger.
They confide that their youngest son's daily earnings of three hundred rupees offer temporary respite. However, their minds are perpetually preoccupied with concerns over his well-being and safety at work.
Rahmanullah, burdened by illiteracy and economic vulnerability, endures a grueling existence. His greatest aspiration is to provide an education for his children, while simultaneously securing stable employment to cater to the needs of his disabled child.
Also Read: KP's Battle Against Drugs: Challenges, Rehabilitation Efforts, and the Need for Action
According to a survey conducted in 2017, Mohmand district harbored a total of 167,771 school-aged children. Shockingly, 56,000 of these children were out of school, deprived of any educational enrollment. Poverty, the omnipresent adversary, clouds the judgment of these families, diverting their attention from the importance of education.
Such children are compelled to abandon their studies, entering the workforce prematurely. Coerced and neglected by their parents, these young souls toil away in workshops, hotels, and shops within local markets, enduring harsh conditions for paltry wages.
Umair, a 14-year-old resident of Tehsil Halimzai Barukhel, is among these unfortunate children who halted their education due to impoverishment. He narrates a heart-rending tale of familial separation following his mother's demise, living with one of his brothers who has his wife and children. To support their family, Umair now toils as a laborer in a marble factory. Despite his earnest efforts, the meager income fails to meet their basic needs, leaving him no choice but to relinquish his education and seek employment within the markets.
Umair, supporting his brother, ekes out a living by selling goods in a handcart, earning an average of three to four hundred rupees per day. Despite their challenging circumstances, Umair still clings to the hope of resuming his education once the burden of household expenses lightens, his dreams intertwined with the pursuit of knowledge.
Deputy Commissioner Dr. Ehtishamul Haque of Mohmand District addressed the issue of child labor, acknowledging that acquiring recent census data would take time. However, based on the 2017 census, it was revealed that over 56,000 children in the district were out of school.
Extreme poverty and unemployment were identified as the primary factors driving children toward labor. Dr. Haque expressed his concern about this societal scourge, emphasizing that parents must not sacrifice their children's futures by withdrawing them from school for short-term gains or to contribute to household expenses.
In a message to the parents of Mohmand District, Deputy Commissioner Dr. Ehtishamul Haque emphasized the importance of education and highlighted the ongoing admission campaign initiated by the District Administration, the Chief Secretary of Khyber Pakhtunkhwa, the Mohmand District Education Department, and the NCHD (National Commission for Human Development).
He urged all parents to enroll their children above the age of four in schools while assuring serious government efforts to combat child labor. As part of the campaign, NCHD would provide a monthly stipend of Rs 1500 to each child as an alternative to labor.
Dr. Haque also emphasized the role of ordinary citizens in helping these children find alternative means of earning, ensuring that the younger generation, deprived of education, can escape the darkness of ignorance. Education is the fundamental right of every child, and collective participation is necessary to make it a reality.
Rasool Khan, an orphaned student from Tehsil Pandialai Doizai, shared his journey. His father, facing poverty, moved to Charsadda district for farming, but after his father's death, the family fell into destitution. His mother brought him and his eight sisters to live in a rented house in Ghalanai Bazar. Due to worsening economic conditions three years ago, Rasool was compelled to leave school in the fourth grade to support his mother and sisters by working in Ghalanai Bazar.
However, a compassionate senior official discovered their situation through social media and invited Rasool and his younger sister to his office. They were received with kindness, hospitality, and monthly rations, in addition to financial assistance. Rasool made a promise to the official that he would not abandon his education.
The very next day, he returned to school. He is now a 7th-grade student at Government Higher Secondary School. For the past three years, they have received the promised rations, and Rasool manages additional needs by engaging in part-time work, such as washing cars at service stations or working at a vegetable shop during school vacations. He remains committed to completing his studies and securing a government job in the future.
Mohmand District Education Department does not possess an accurate estimate of the number of out-of-school children or the most recent data. However, District Education Officer Liaquat Ali is deeply concerned about the escalating prevalence of child labor. Through teachers appointed in remote areas, the Education Department has learned that poverty drives parents to prioritize labor over sending their children to school. These children often engage in arduous and hazardous work, such as lifting and breaking large stones.
Ali emphasized the direct correlation between child labor and school enrollment, noting that increasing the number of children enrolled in schools will lead to a reduction in child labor rates.
DEO Mohmand Liaquat Ali conducted meetings with all headmasters and principals in the district, assigning them the responsibility of engaging economically stable individuals within the community. Their task is to encourage out-of-school children to receive education and provide financial assistance to impoverished parents who have children engaged in labor. Ali emphasized that the effects of this issue are felt by society as a whole, and wasting children's lives for temporary convenience should be avoided.
Hits: 6