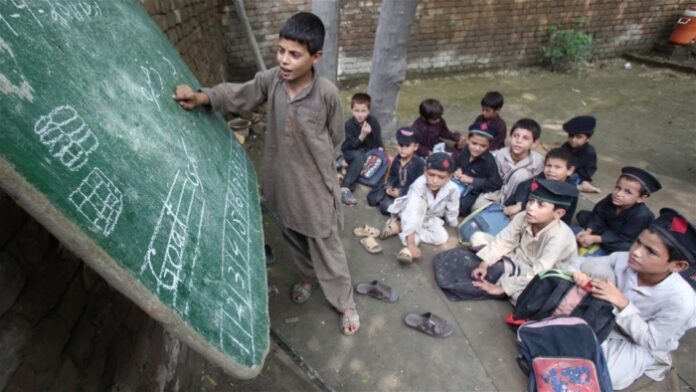 Shazia Nisar
In Khyber Pakhtunkhwa (KP), the number of students in schools has witnessed a significant decrease of 150,000 compared to the previous year. According to the Enrollment Campaign Progress Report 2023, the target was to enroll over 1.6 million children in schools this year, but official statistics reveal that only 698,118 students have been enrolled so far, with 843,853 students enrolled during the enrollment campaign of 2022.
The education department has faced challenges in achieving this year's target, leading to the extension of the admission campaign until July 10. The current figures indicate that 3,657 students have been admitted in Peshawar, 1,984 in Mardan, 13,302 in Swabi, 14,134 in Mansehra, 5,954 in Haripur, and 2,741 in Shangla.
Also Read: Nowshera Struggles with Water Shortage Amid Climate Change
Armanullah, a parent who transferred his children from a government school to a private school, expressed disappointment with the quality of education in government schools. Despite enrolling his children in a government school with hopes of improvement, their educational standards deteriorated over the past two years, compelling him to opt for a private school. Armanullah acknowledged the financial burden of private school education but emphasized the importance of providing his children with a better education.
Mutasim Billah Shah, Secretary of Primary and Secondary Education, assured that the department is determined to achieve the set target for the admission campaign. Efforts are being made to enroll 1.6 million children in schools through various initiatives, including the Second Shift and ALP Community Schools.
It is worth mentioning that Secretary Mutasim Ballah Shah previously expressed his frustration with administrative officers and teachers during a conference while announcing the decision of the Education Department to transfer certain schools to private partners under the Public-Private Partnership model.
Hits: 45