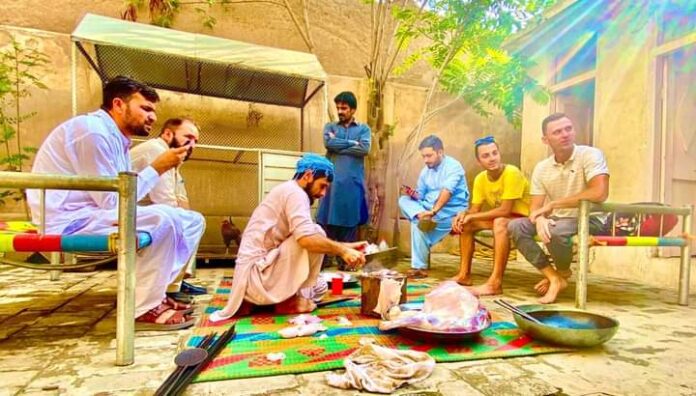 Khyber Police Sub-Inspector Amin Akbar Afridi removed the misunderstanding created with foreign tourists in a unique way yesterday.
Amin Akbar Afridi removed the displeasure of the foreign tourists by offering a "Nanawaty" (traditional apology) to them in his native village according to tribal traditions and covered the female tourist with a 'chaddar' (dupatta) according to tribal customs.
The foreign couple, who were angry with the police in Jamrud's historical bazaar, were invited to the Gudar area of Jamrud, the residence of police officer Amin Akbar Afridi. Apart from individuals, journalists also participated.
On this occasion, the foreign tourists were served the traditional food of "wreetha" (Bar BQ), "Laralye" (Karahi), followed by 'Qahwa' (green tea), etc. Traditional music was also arranged on this occasion, which greatly entertained the foreign tourists.
Also Read: Heartbreaking Tragedy: 6-Year-Old Girl Found Dead in Peshawar
In this regard, foreign tourists said that the people of Pakhtun and especially the Khyber district are very hospitable, peace-loving, and traditional people: "We have forgiven the policemen. And we accept their 'Nanwaty' (accepting the traditional apology). We liked the custom very much. Now there is no anger in our hearts. Now we are happy and invite tourists, especially foreign tourists, to visit this historic area."
They said they were troubled by the crowd, and questioning yesterday: "The tribals, especially the people of Jamrud, are very loving people which we now realize." They said that they have received gifts and presents here, and they are very happy and grateful to police officer Amin Akbar Afridi.
Addressing Amin Akbar Afridi, the foreign couple said: "We will remember this love. We are grateful to you for upholding the tribal traditions of peace, brotherhood, hospitality, and especially great tribal traditions like 'Nanawaty.' You have also enlightened and informed us, the foreigners, about the tradition. We are proud of you."
Hits: 15