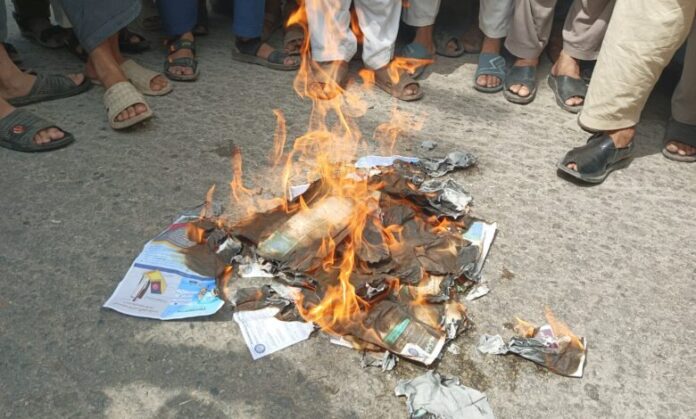 Usman Danish
Protests have swept across the nation, including Khyber Pakhtunkhwa, as people voice their discontent over escalating electricity bills and exorbitant taxes. There's growing scrutiny over the practice of granting free electricity units to both WAPDA employees and government officials.
In response, a petition has been submitted to the Peshawar High Court, urging an end to the provision of free electricity units to WAPDA and other government officials, along with the elimination of additional taxes from public bills.
The petition, filed by Advocate Amin ur Rehman Yousafzai, contends that WAPDA officials have been subjecting the public to various forms of harassment. The question arises: How will the economically disadvantaged pay the hefty electricity bills incurred in July? Even households with only a single fan and light bulb have received bills amounting to thousands of rupees, predominantly comprising unnecessary taxes.
Also Read: Rising Costs Drive Closure of KP's Brick Kilns, Imperiling Livelihoods
According to Aminur Rahman, the bill encompasses a slew of taxes unbeknownst to consumers. This includes additional tax, extra tax, e-tax, fuel tax, income tax, PTV tax, and other levies that are exceedingly challenging for consumers to settle given the current circumstances.
The petition urges that the cost of the free electricity units granted to WAPDA and other government officials be shouldered by the beneficiaries themselves, thus advocating for the abolishment of free electricity units for government officials.
Examining Free Electricity Entitlements for Government Officials
According to Senator Mushtaq Ahmad Khan, government employees affiliated with WAPDA availed free electricity worth a staggering 8 billion 19 crore rupees in 2022. Moreover, an alarming 500 billion rupees' worth of electricity has been stolen in the past five months. NEPRA reports that government employees received 244.6 million free units within a year. In the fiscal year 2021/22, electricity distribution companies incurred a loss of 122.59 billion rupees.
According to NEPRA, the quantum of free electricity units provided to WAPDA employees varies by grade. Employees from grade one to grade nine receive 100 free units, while those from grade five to grade 10 receive 150 units. The allocation increases to 200 units for grade 11 to grade 15 employees, 300 for grade 16, 450 for grade 17 officers, 600 for grade 18, and 880 for grade 19. Officers of grade 20 are entitled to 1100 free units, while grade 21 and 22 officers receive 1300 free units. Retired employees receive half of these allocations, in addition to other benefits.
Hits: 8