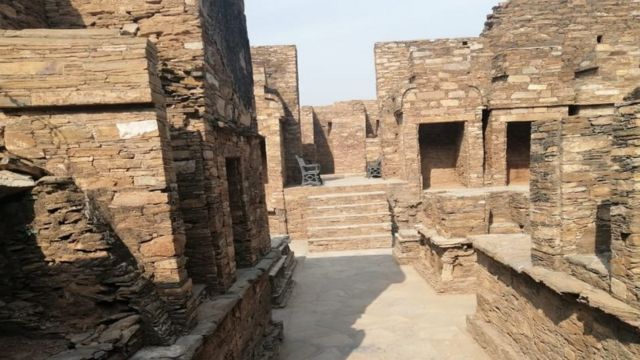 Zeeshan Kakakhel
In the past five years, a staggering revelation has emerged, indicating that more than 100 historical buildings, tunnels, stupas, and archaeological treasures have suffered damage or fallen prey to smuggling activities in Khyber Pakhtunkhwa (KP).
During this period, the Department of Archaeology initiated action against these transgressions, registering 38 FIRs for Antiquities Act violations between 2019 and 2023, aimed at bringing those responsible for the damage and smuggling to justice. Regrettably, sources indicate that no fines have been imposed, and no one has faced incarceration for these offenses.
According to official documents from the Department of Archaeology, Peshawar has borne the brunt of Antiquities Act violations during this five-year period, with 12 cases registered pertaining to damage to archaeological sites, historical landmarks, and ancient artifacts. Many of these cases revolve around the demolition of significant historical buildings.
Peshawar is recognized as one of the world's historic cities, enriched with numerous historical structures and residences. However, the stark reality is that these historical homes have been razed to make way for commercial plazas. Though many involved in these actions have been identified, neither arrests nor fines have ensued.
Furthermore, Mardan and Swabi have seen the registration of cases against 6 and 6 individuals, respectively, for breaching the Antiquities Act. In Swat, during the same five-year period, FIRs were filed against 3 individuals for legal action. In both Mansehra, Charsadda, and Haripur, 2 cases were recorded, and 1 individual was charged for Antiquities Act violations in Abbottabad and Khyber.
Also Read: KP Government Enforces Ban on Open Sale of Mobile SIM Cards
To counteract violations, the Antiquities Act stipulates punitive actions to be taken whenever historical heritage sites are compromised, archaeological sites are damaged, or individuals are apprehended attempting to smuggle antiquities.
According to the law, violators can face imprisonment for up to 5 years and a fine of 2 million rupees. In severe cases, both penalties may be imposed. Tragically, inadequate enforcement has led to frequent occurrences of historical building damage. Temporarily sealed sites have been subsequently transformed into plazas or custom houses.
Research Officer Bakht Muhammad of the Department of Archaeology stressed the vigilance of the department in responding to violations of the law. He noted that archaeological offices, museums, and related institutions are present in 12 KP districts, and Antiquities Act violations are less prevalent in these areas. According to him, the law was further revised in 2022 to tighten the noose around antiquities smugglers and those damaging archaeological heritage.
Nevertheless, the Research Officer acknowledged challenges in areas where there is no office or official posted, impeding efforts to apprehend Antiquities Act violators. Beyond the 12 districts of the province, including the former tribal districts, the presence of these offices and museums remains scarce.
Bakht Muhammad revealed that KP hosts more than 8,600 registered sites, while an additional 20,000 are unregistered. A total of 86 sites have been designated as protected sites in the region.