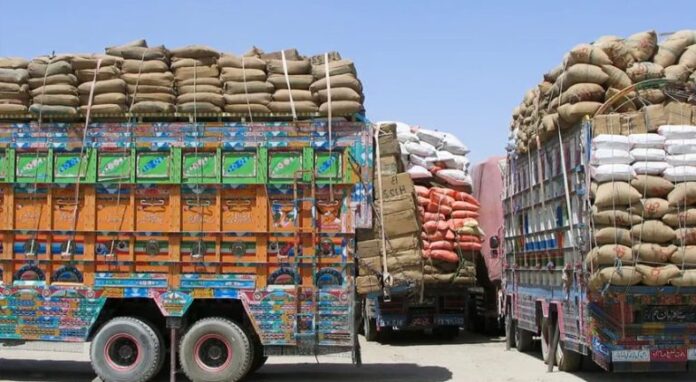 Rehan Muhammad
Pakistan has recently allowed barter trade with Afghanistan, Iran, and Russia. The Ministry of Commerce of Pakistan has recently issued a notification allowing barter trade with Afghanistan, Iran, and Russia.
This decision comes at a time when Pakistan is grappling with a severe financial crisis and facing a scarcity of dollars in domestic banks for imports. The business community has responded with a mixed reactions to this policy of bilateral trade. While the Afghan government has criticized it as a one-sided decision, others have called for a thorough review of the overall situation before making a final judgment on the future of Pak-Afghan trade. Currently, there is some informal barter trade between Pakistan and Afghanistan, but it is not officially sponsored by the government.
Zahid Shinwari, former president of the Sarhad Chamber of Commerce and Industry, acknowledges that despite the absence of government-level procedures, trade with Afghanistan is informally based on the principles of barter trade, which has proven to be beneficial. He highlights that there are no issues with the refund of customs duty, sales tax, and income tax on agricultural commodities traded through this method, making it advantageous.
Also Read: KP's Battle Against Drugs: Challenges, Rehabilitation Efforts, and the Need for Action
Syed Muhammad, engaged in the cement industry, exports cement from Pakistan to Afghanistan and imports coal from Afghanistan for his business. He explains that after the Taliban assumed power in 2021 and the banking system was disrupted, he resorted to barter trade due to the impossibility of dollar transactions. However, there are instances where money is exchanged for goods to enhance their value, often conducted through personal means. Mohammad emphasizes that barter trade is beneficial and convenient for traders involved in a reciprocal exchange of imported and exported goods within the industry.
Notably, on November 18, 2022, the Federal Board of Revenue (FBR) issued a notification for the Multimodal Air Land Corridor, enabling Afghanistan to transport goods by air. According to the notification, Pakistani airports will be utilized for the transit of Afghan trade goods through the multimodal air-land corridor.
Alamzeb, an active member of the Pak-Afghan Giant Chamber of Commerce, expresses that high-level meetings have discussed initiating barter trade with Afghanistan for several years. However, the business community strongly opposed the implementation of this decision, citing numerous challenges faced by businessmen in both countries. He believes that the government's barter trade decision will primarily benefit the state rather than the traders. On one hand, the country will be spared from using dollars for trade with Afghanistan, Iran, and Russia, while on the other hand, it will partially address the energy crisis through the import of oil and gas.
An anonymous senior official from Afghanistan's Ministry of Commerce criticizes Pakistan's decision on barter trade as unilateral, emphasizing the need for comprehensive consideration of all aspects in consultation with the business community. The official recalls previous decisions by Islamabad that were rejected by the Afghan government, such as conducting trade between the two countries in Pakistani currency.
He clarifies that the current trade balance between the two countries reveals a significant difference, with Afghanistan accounting for 60% of exports and Pakistan contributing 40% of imports, making it unlikely for the Afghan government and business community to readily accept this new trade policy.
As per the notification issued by Pakistan's Ministry of Finance, importers and exporters listed as active taxpayers by the Federal Board of Revenue will be eligible for barter trade. Importers will be permitted to import various goods from Afghanistan, including fruits, dry fruits, vegetables, pulses, chilies, minerals, metals, coal, raw rubber items, hides, and iron and steel.
Similarly, imports from Iran will include fruits, dry fruits, chili spices, minerals, metals, coal, petroleum, crude oil, LNG, LPG, chemicals, fertilizers, plastics, rubber, and iron and steel, among other goods. From Russia, imports of pulses, wheat, coal, petroleum (including crude oil), LNG, LPG, fertilizers, plastics, rubber, minerals, metals, textile industry machinery, and iron and steel have been permitted.
Syed Muhammad, a customs agent in Torkham, reveals that the current balance of Pak-Afghan trade has not undergone significant changes. He states that around 300 to 350 trucks carrying various goods used to cross from Pakistan to Afghanistan every day, while over 300 cargo vehicles filled with coal, soapstone, and apricots currently enter Pakistan from Afghanistan.
Muhammad points out that in the past, around 1,500 vehicles would travel from Pakistan to Afghanistan, with over 200 vehicles returning daily. However, due to the challenges faced in bilateral trade, the volume of Pak-Afghan trade has significantly declined.
Zahid Shinwari, representing the Border Chamber of Commerce, shares that consultations with government agencies to initiate barter trade had begun several years ago. Although some trade activities with Iran have commenced on this basis, no substantial steps have been taken to make this process more effective, leading to a lack of success in the project. He criticizes the fact that chambers and business leaders were kept uninformed about the current decision, and highlights the past mistakes that have had adverse effects on the nation's economy. To ensure the success of this new plan, Shinwari urges the government not to repeat those mistakes.
According to data from the State Bank, Pakistan's annual imports amount to $80 billion, while its exports reach only $20 billion. Experts argue that such a significant difference between exports and imports does not bode well for any country's economy. The decision to allow barter trade with neighboring countries aims to alleviate the financial strain caused by the shortage of dollars, but its long-term impact on the economy remains to be seen.
Simplifying Pak-Afghan Trade Through Barter System
Zahid Shinwari emphasizes that barter trade is an age-old method of exchange between two countries, where goods are traded directly for other goods, eliminating the need for monetary transactions.
He points out that this trading system is currently being implemented between various countries, including the United States and Mexico. Shinwari believes that adopting a similar approach can prove beneficial for bilateral trade between Pakistan and Afghanistan, particularly in contrast to the complexities associated with remitting money through bank accounts for dollar transactions in other trade systems.
Challenges and Implementation Hurdles of Barter Trade
According to Alam Zeib, the government's inconsistent policies and the lack of a conducive environment and facilities have hindered the full implementation of any trade policy, particularly in relation to Afghanistan. This has resulted in a decline in the Pak-Afghan trade.
He highlights the difficulties faced in conducting business under barter trade, where a trader can bring goods from Pakistan but lacks the means to send goods back. Zeib believes that only certain types of businessmen who can engage in specific trade activities, such as exporting cement or coal to Afghanistan and importing coal for sale in Pakistan's industry, may benefit from this system.
Zahid Shinwari adds that although the government has announced the barter trade policy, no concrete steps have been taken to effectively implement it. He emphasizes that the success of the new trade policy depends on avoiding the mistakes made in the past and addressing the numerous challenges that have plagued trade between the two countries, causing frustration among traders on both sides.
Barter Trade Amidst International Sanctions
The decision to allow barter trade with Russia, Afghanistan, and Iran raises questions regarding the feasibility of conducting trade with countries facing international sanctions. Afghanistan, Iran, and Russia have all been subjected to various sanctions imposed by international organizations.
Zahid Shinwari addresses this issue by stating that many countries worldwide trade with nations under strict international restrictions. Despite sanctions, Iran continues to export significant amounts of oil and gas to China and India.
Shinwari highlights that while the government's actions may have been limited in the past due to changing global dynamics, the severe economic crisis and evolving regional priorities have prompted the country to explore new measures.
Hits: 24