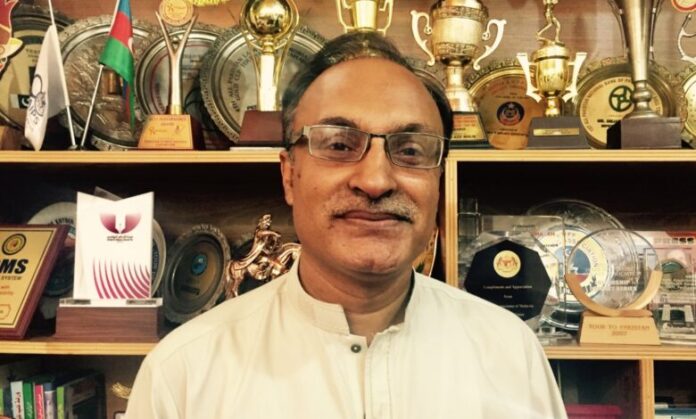 Aftab Mohmand
On the momentous occasion of Pakistan's 76th Independence Day, President Arif Alvi has bestowed an extraordinary honor upon Amjad Aziz Malik, a seasoned sports journalist hailing from Peshawar. Acknowledging his exceptional contributions to the nation, Amjad Aziz Malik has been nominated for the prestigious Presidential Medal of Distinction (Tamgha e Imtiaz).
A trailblazer in the realm of sports journalism, Amjad Aziz Malik has etched his name in history as the first sports journalist to be considered for the illustrious Medal of Distinction in Pakistan's 76-year legacy. With a journalistic journey that commenced in 1982, his indomitable spirit has been a beacon of excellence.
Amjad Aziz Malik's journalistic footprint encompasses esteemed publications, from daily Imroz and daily Hurriyat to the monthly newspaper Akhbar-e-Watan. His path led him to the esteemed Daily Jang in 1986, where he carved an impactful presence for 16 enriching years.
Also Read: Anwar-ul-Haq Kakar Assumes Role of Caretaker Prime Minister
Notably, Malik's dedication extended to Pakistan's premier news channel, 'Jeo News,' where he fearlessly reported on acts of terrorism, undeterred by the associated risks. As a testament to his unwavering commitment, he assumed the role of Resident Editor at the esteemed 'Express' daily from 2014 to 2017. Today, he stands as the distinguished Chief Editor of the daily 'Kasoti,' along with being the accomplished Chief Executive Officer of the internationally acclaimed V News website based in Islamabad.
Amjad Aziz Malik's influence extends beyond journalism's realm. He has left an indelible mark in the arena of sports journalism, championing the cause of Khyber Pakhtunkhwa's province and the nation at large. His efforts have been instrumental in fostering sports development and the welfare of athletes. Notably, he holds the distinction of commentating on 268 international hockey matches, earning the accolade of Radio Pakistan's best hockey commentator for consecutive years in 1999 and 2000. A formidable presence, he lent his voice to Urdu news on Pakistan Television for a decade, concurrently moderating a weekly sports program on Radio Pakistan for an impressive 16 years.
The remarkable journey of Amjad Aziz Malik extends to global recognition. He earned the honor of serving as Secretary General for the Asian Sports Journalists Federation for an unprecedented three consecutive terms. Furthermore, he has been an integral member of the Executive Committee for the International Association of Sports Journalists, the esteemed AIPS.
Beyond journalistic horizons, Amjad Aziz Malik stands as a true bridge-builder, contributing significantly to the Pakistan-China friendship. His visionary efforts materialized in the establishment of the cutting-edge China Window Center, a testament to his dedication to fostering international relations.
With literary prowess, Amjad Aziz Malik has authored 17 books across diverse subjects, making him the solitary journalist from Khyber Pakhtunkhwa to achieve such a distinction. His literary endeavors extend to over 300 published papers and more than 50 brochures and magazines. For his exceptional contributions, he has been honored with over 400 awards spanning national and international spheres.
In an illustrious journalism career spanning 42 years, Amjad Aziz Malik has penned over 8,000 features, articles, and columns, leaving an indelible imprint on readers' minds. His contributions have reverberated through literary, social, academic, and cultural circles, and he has championed innovative stage plays in Peshawar.
Remarkably, Amjad Aziz Malik was the pioneer president of the Khyber Pakhtunkhwa Sports Writers Association, holding an instrumental role in shaping the landscape of sports journalism. Similarly, he held the mantle of General Secretary and President for the Pakistan Sports Writers Association, while his influence extended to various international sports organizations.
Asim Shiraz, President of the Khyber Pakhtunkhwa Sports Writers Association, lauded Amjad Aziz Malik's pivotal role in shaping the sports journalism landscape in Pakistan. He recounted how Malik's vision gave birth to the association in 1985, and his efforts ignited its expansion across provinces. Notably, over 30 journalists from Khyber Pakhtunkhwa, representing Asia and other international journalistic bodies, owe their journey to Amjad Aziz Malik's guidance. Whether it's securing visas for journalists covering events like the Commonwealth Games or the Olympics, his support has been invaluable.
In November of the preceding year, Amjad Aziz Malik orchestrated a remarkable four-day conference for international sports journalists, showcasing his unwavering commitment to fostering cross-border ties.
As the nation celebrates its Independence Day, it's important to note that the announcement of civil awards coincides with this auspicious occasion. However, the formal awards ceremony is reserved for Pakistan Day on March 23, a fitting tribute to honor exceptional contributions to the nation.
This recognition marks a pivotal milestone in Amjad Aziz Malik's illustrious journey, a testament to his unwavering commitment, pioneering spirit, and invaluable contributions to Pakistan's journalism, sports, and international relations.
Hits: 27