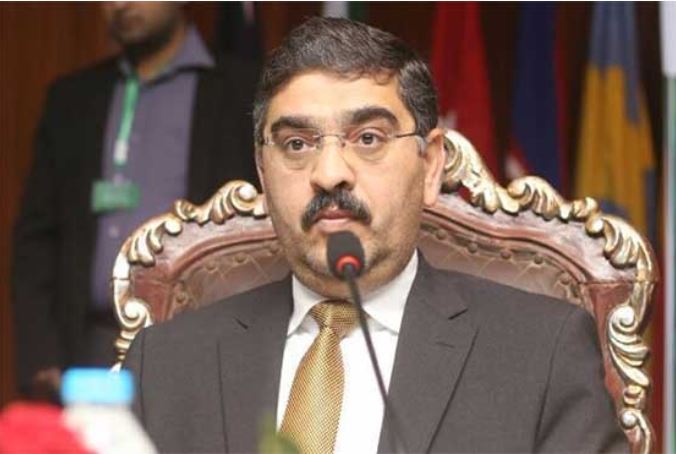 Anwar-ul-Haq Kakar was formally inaugurated as the Caretaker Prime Minister of Pakistan, taking the oath of office.
President of Pakistan, Dr. Arif Alvi, administered the oath to Anwar-ul-Haq Kakar, appointing him as the Caretaker Prime Minister. Distinguished attendees at the ceremony included former Prime Minister Shehbaz Sharif, Speaker Raja Pervez Sharif, Punjab Governor Balighur Rehman, Sindh Governor Kamran Tesuri, Caretaker Chief Minister Punjab Mohsin Naqvi, and PTI Senator Shahzad Wasim.
It is worth highlighting that a mere two days prior, Prime Minister Shehbaz Sharif and Opposition Leader Raja Riaz reached a consensus on the selection of Senator Anwarul Haq Kakar as the Caretaker Prime Minister, an agreement that received official validation through President Dr. Arif Alvi's endorsement.
Also Read: Independence Day Oversight: 12 Educators Suspended in Peshawar
Anwar-ul-Haq Kakar acted to uphold the neutrality expected of a caretaker Prime Minister by resigning from his Senate seat, a decision that garnered approval from the Senate Chairman.
Anwar-ul-Haq Kakar: A Profile
Anwarul Haq Kakar secured an independent seat in the Senate in March 2018, with his tenure set to conclude in March 2024. Notably, he presided over the Senate Standing Committee on Overseas Pakistanis and Human Resource Development, concurrently serving as a member of the Senate Business Advisory Committee, Finance and Revenue, Foreign Affairs, and Science and Technology.
An instrumental figure in the political arena, Anwar-ul-Haq Kakar undertook the role of parliamentary leader for the Balochistan Awami Party, originating within the Senate in 2018. For five years, he led this position with dedication. However, five months ago, a transition in leadership within his party led to his replacement.
From December 2015 to January 2018, Anwar-ul-Haq Kakar played a vital role as the spokesperson for the Balochistan government.
Academically, Anwar Haq Kakar holds a bachelor's degree in political science and sociology from the University of Balochistan, a fact supported by the Islamabad-based research institute, the Center for Strategic and Contemporary Research.
The Caretaker Prime Minister is proficient in a range of languages, including English, Urdu, Farsi, Pashto, Balochi, and Brahvi.
Hits: 7