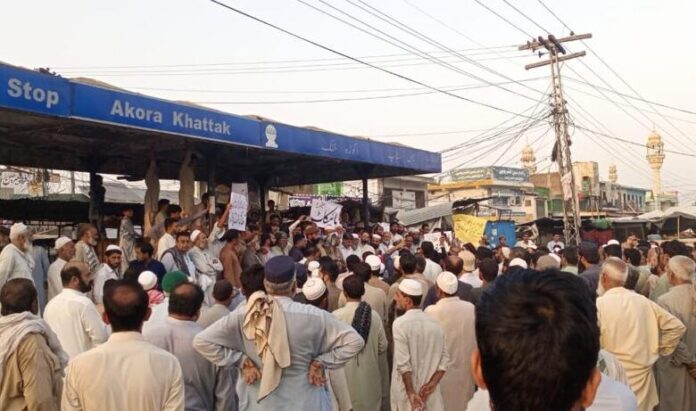 In the Akora Khattak area of the Nowshera district, people are protesting against the surge in electricity bills and heavy taxes, prompting Jamaat-e-Islami to declare a nationwide protest on the same issue.
As reported by TNN, despite the scorching heat in the Nowshera district, hundreds of enraged individuals took to the streets with sticks in hand. The protest included both elderly citizens and youth, and they effectively disrupted traffic on the Peshawar and Rawalpindi GT Road.
Protesters could be heard chanting slogans against WAPDA. They expressed their refusal to pay bills until the burdensome taxes are abolished. The rise in electricity bills, especially during times of inflation, has become unbearable for many. The public is demanding that the government lower electricity prices to provide relief.
Also Read: World Bank Delegation Applauds PCSP's Transformative Impact in KP's Development
Furthermore, a complete shutdown strike was organized in Mansehra itself, orchestrated by Traders' Union, in protest of the escalating electricity bills. The entire district came to a standstill as markets and commercial centers remained closed. Business activities ceased throughout the district, including the city, with only tandoor shops and medical stores continuing to operate. A significant gathering of traders converged at the central square, announcing their intention to hold a sit-in outside the WAPDA office.
It's noteworthy that for the past several days, people have been staging protests against the surging electricity bills in various parts of the country.
JI Announces Nationwide Strike
Meanwhile, Jamaat-e-Islami (JI) has declared a nationwide strike on Saturday, September 2, in opposition to the escalating electricity prices.
Speaking on the anniversary of Jamaat-e-Islami in Lahore, Jamaat Amir Siraj ul Haque remarked that even today, there are proponents of British interests within the National Assembly, Senate, and ministries. The prevailing inflation in the country is attributed to economic destabilization caused by certain factions. The ruling entities have facilitated the growth of sugar mills and estates, further exacerbating the situation. Sirajul Haque emphasized that while a nation can recover from being physically attacked, a decline in moral values is irreparable.
He expressed his astonishment over the per-unit cost of hydropower being Rs. 6.94, highlighting the government's inefficiency and administration's mismanagement in importing expensive coal, gas, and oil. The exorbitant electricity bills have become a source of distress for the public.
Siraj ul Haque revealed that a mere fan and four light bulbs have been billed at a staggering forty thousand rupees. He issued a warning to the government, demanding the withdrawal of the decision to increase electricity charges. The public's protests against the escalating bills span from Karachi to Chitral.
He declared, "Let this be a warning: if the increase isn't rolled back, there will be serious repercussions."
Amir Jamaat-e-Islami announced that they intend to organize a strike spanning from Karachi to Chitral on September 2, compelling the government to retract its decision to hike electricity prices through peaceful but impactful demonstrations.
Hits: 16