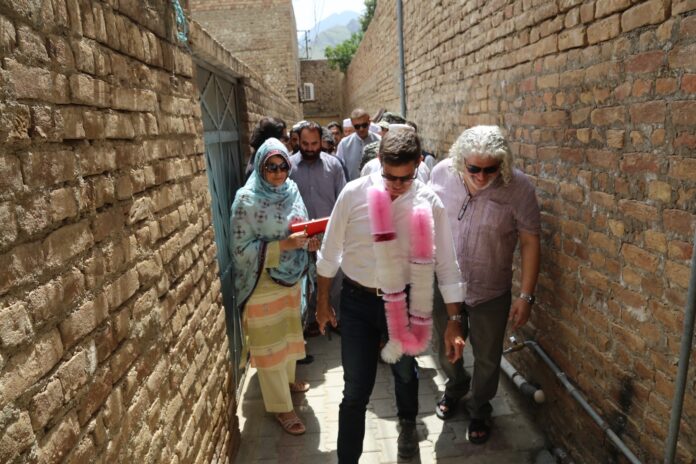 Peshawar: A distinguished delegation from the World Bank, led by Robin Mearns, Practice Manager for Social Sustainability and Inclusion in South Asia, embarked on a visit to various project sites within Khyber's Landi Kotal tehsil. These projects have been successfully executed as part of the Pakistan Community Support Project (PCSP).
The delegation included other senior members of the World Bank's Pakistan team, along with representatives from the PCSP project management team and district administration officials. Khyber stands as one of the focal areas for PCSP implementation, alongside Peshawar and Nowshera, collectively forming the CASA-1000 transmission line corridor.
During their visit, the delegation engaged in on-site inspections of multiple locations in Landi Kotal. Notable among these were a government girls' primary school that had been rehabilitated, a newly constructed street with an efficient drainage system, and a flood protection wall that was raised in response to the urgent community need after last year's monsoon floods.
Also Read: Independent Candidates Triumph in Khyber Pakhtunkhwa By-Elections
The World Bank visiting team also took the opportunity to interact with local community members and beneficiaries of these completed sub-projects, expressing their appreciation for the community's active involvement in these developmental initiatives.
Earlier in the day, the World Bank delegation received a comprehensive briefing from Shakeel Ahmed, the Project Director of PCSP. This briefing covered the overall progress of implementation as well as specific accomplishments across all project components.
The visiting delegation lauded the transformative work carried out by PCSP within the CASA-1000 corridor. Robin Mearns, speaking on behalf of the World Bank, commended PCSP for its dedication and the positive impact it has made on the community. He stated, "The project stands as a testament to the collaborative endeavors that drive sustainable development and social inclusivity in the region."
PCSP has emerged as a model for community-driven development aimed at uplifting rural areas in Khyber Pakhtunkhwa, including the Merged Areas. By implementing this project, community members and project management have successfully identified the essential needs of citizens through participatory bottom-up planning. This approach has been further enhanced to enhance the lives and livelihoods of citizens by involving them in development initiatives that directly benefit them. This aligns with the benefits-sharing aspect of the CASA-1000 Project.
Hits: 42