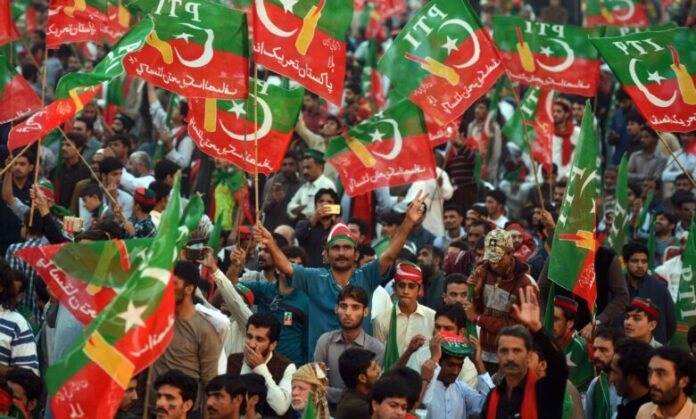 Haroon ur Rasheed
Even as Pakistan Tehreek-e-Insaf's leadership faces arrests and challenges, Imran Khan's narrative continues to resonate among the masses. The recent by-elections in Mathra (Peshawar) and Haveliyan (Abbottabad) of Khyber Pakhtunkhwa stand as evidence. Despite the absence of their chairman, PTI workers supported Imran Khan through their votes instead of taking to the streets.
Inconclusive Results of By-Elections
During the Tehsil Council Mathra by-elections on August 6, Inamullah Khan from Tehreek-e-Insaf secured victory with 20,333 votes. Rafiullah of Jamiat Ulema-e-Islam secured second place with 13,564 votes. Iftikhar Ahmed from Jamaat-e-Islami followed with 9,546 votes. Ali Abbas Khan of the People's Party secured fourth place with 5,377 votes. Fazlullah from Muslim League-N secured fifth place with 3,351 votes, while Aziz Ghaffar Khan from the Awami National Party stood sixth with 2,721 votes.
In the previous election, JUI candidate Faridullah won this seat with 22 thousand votes. Jamaat-e-Islami's Iftikhar Ahmed secured second place with 15,844 votes. Ali Abbas Khan of the People's Party stood third with 9,835 votes. Muhammad Ehtsham Khan from Tehreek-e-Insaf secured the fourth position with 9,681 votes. Awami National Party's Aziz Ghaffar Khan stood fifth with 8,489 votes, followed by Azmat Khan of Muslim League (N) with 6,409 votes. The unofficial results of the by-elections indicate that Tehreek-e-Insaf's vote bank increased by 10,652 votes.
Also Read: Increasing Terrorism in Tehsil Bara Spurs Calls for Peace
Similarly, Aziz Sher Khan, an independent candidate supported by Tehreek-e-Insaf, secured victory in Tehsil Haveliyan with more than 21 thousand votes. PTI's Iftikhar Khan followed with 18,521 votes.
Analyzing the results of previous elections, PTI's vote bank increased by over two thousand votes in this seat. The successful independent candidate, Aziz Sher Khan, announced via Twitter that he would dedicate his seat to Imran Khan.
Peshawar's senior journalist, Lehaz Ali, emphasized that despite arrests, withdrawals of leadership, and FIR registrations, Tehreek-e-Insaf's strength has grown instead of weakening. The party workers, faced with cases against Imran Khan and the central and provincial leadership, view these actions as revenge rather than reality. Imran Khan's narrative remains popular among the activists, as evidenced by their resilience. The breakaway parties, Stability Pakistan Party, and Pervez Khattak's faction have failed to dent PTI's standing.
Lehaz Ali added that after Imran Khan's ousting from power, while he made political missteps, the incompetence of the PDM and its allies prevented them from presenting an alternative narrative. The recent local by-elections leveraged sympathy due to Imran Khan's arrests and cases against party leaders, leading to PTI's victory.
He further noted that PDM couldn't challenge Imran Khan's narrative over the last sixteen months of power. Maulana Fazlur Rahman clarified that PDM is a government alliance, not an electoral one. The upcoming general elections could provide an opportunity for open critique, allowing Imran Khan's supporters to capitalize on the contradictions within other parties.
Lehaz Ali explained that during the municipal elections in Khyber Pakhtunkhwa on December 19, 2021, PTI believed that despite not being an established party, whoever held the bat symbol would gain acceptance. However, the results proved otherwise. In the second phase, interim arrangements facilitated strong mobilization, suppressing opposition parties during the local elections on March 30, 2022.
Lehaz Ali asserts that even in the event of Imran Khan's prolonged incarceration, the temporary leadership mantle of the party would rest upon Shah Mehmood Qureshi. Nevertheless, Shah Mehmood Qureshi would likely emphasize Imran Khan's narrative over his own persona. He would convey to the public that they are enduring oppression and reprisals. In this scenario, the courtroom proceedings against Imran Khan would hold more significance for the party's supporters.
Irfan Khan, another senior journalist from Peshawar, shared insights with TNN, highlighting the underlying reasons behind PTI's prevalent popularity during the recent by-elections. He emphasized that whenever an anti-establishment narrative surfaces in Pakistan, it garners public favor. This pattern dates back to Zulfikar Ali Bhutto's formation of the People's Party in the late 1960s. In the recent political landscape, during Imran Khan's tenure and PML-N's scrutiny, by-elections predominantly favored the PML-N, capitalizing on sympathy votes.
Khan further noted that the use of force is often counterproductive. Tehsil Mathra's electorate stood steadfast with Imran Khan. The departure of prominent figures like Pervez Khattak and Mehmood Khan from Tehreek-e-Insaf hasn't been a deterrent for voters. Even if elected federal and provincial representatives shift their allegiance, PTI's vote bank is likely to remain robust, primarily due to the charisma of Imran Khan.
He underlined the formidable presence of PTI's dynamic social media team, which has effectively translated Imran Khan's digital popularity into tangible support. The actions of the PDM government have inadvertently spurred public sympathy for Imran Khan. Khan asserted that the Mathra and Havelian by-elections served as a litmus test for all political parties. Despite a 26% turnout, PTI's popularity and vote bank surged in Tehsil Mathra. Inamullah, an ordinary PTI activist, secured victory, overshadowing candidates from parties with established political stature.
Regarding the upcoming general elections, Khan elaborated that Tehreek-e-Insaf would be the sole party to field candidates in each of the 115 general seats of the Khyber Pakhtunkhwa Assembly. In contrast, JUI has candidates in 60 tehsils, PML-N in 30, ANP in 40, and Jamaat-e-Islami in 35. Tehreek-e-Insaf stood out by not only nominating candidates across all constituencies but also by allowing independent contestants who didn't secure party tickets. One of the factors contributing to PTI's resilience in recent by-elections is the opposition's inability to mobilize its voters effectively. Conversely, Tehreek-e-Insaf supporters proactively participated in the voting process.
Hits: 3