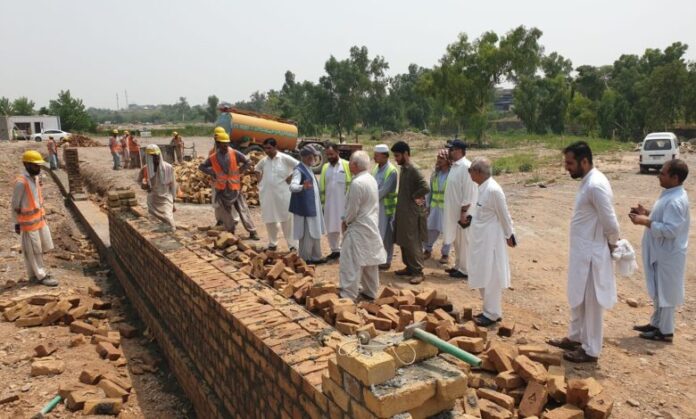 Shahid Khan
The 'Khyber Pakhtunkhwa Cities Improvement Project' aims to enhance the environmental quality of five major cities in Khyber Pakhtunkhwa (KP), employing sanitation and waste for productive purposes, and treating sewage water for reuse. Funding support of 97 billion rupees for this project has been extended by the Asian Development Bank and the Asian Infrastructure Investment Bank.
In its initial phase, the project will encompass the replacement of water supply pipes, along with the cleaning, maintenance, and reconstruction of water tanks in the five divisional headquarters: Peshawar, Kohat, Mardan, Abbottabad, and Swat. Notably, cities equipped with water and sanitation companies will see these undertakings handed over to these companies following completion.
According to Syed Zafar Ali Shah, the Project Director of the Khyber Pakhtunkhwa Cities Improvement Plan, this initiative, conceived in 2018, intends to cleanse the cities of Khyber Pakhtunkhwa from pollution, repurpose contaminated water, and advance sewage systems and waste management.
Also Read: Saudi Arabia's Humanitarian Aid Brings Relief to Flood-Affected Families in Chitral
He mentioned that the project's implementation has commenced across all five cities. Substantial progress has been made in the construction of children's parks at two locations in Peshawar. An elaborate strategy has been formulated to harness waste from 68 union councils in the provincial capital. The waste will be gathered from across the city and deposited in designated disposal sites. Industries will be established to convert this waste into valuable resources, with recycling initiatives for paper, plastic, and glass components.
As per the director, the organic waste, including vegetables, will be converted into urea. The project blueprint envisions converting approximately 92% of waste and filth into useful materials while employing modern methods to manage the remaining waste.
He further outlined that sewage treatment facilities are set to be constructed in Peshawar, Kohat, and Mardan. These facilities will treat wastewater, rendering it suitable for agricultural use and other necessary applications.
Moreover, there are plans to supply Swat River water for drinking purposes in Mingora City. A water treatment plant will be erected in Khwaza Khela, utilizing advanced scientific methods to purify water from the Swat River, making it potable. To ensure a clean water supply to the entirety of Mingora City without relying on water pumps, a 26 km pipeline will be laid, and water tanks will be constructed.
The overarching goal of the project is to create a clean environment by eliminating encroachments in the narrow streets of Abbottabad and enhancing the sewage system. A vast and verdant park will be established atop a former waste heap in Salhad, Abbottabad. In the subsequent phase of the project, similar efforts encompassing parks, potable water provision, sanitation, sewage systems, and the establishment of water or sewage treatment plants will be initiated in DI Khan and Bannu.
Hits: 19