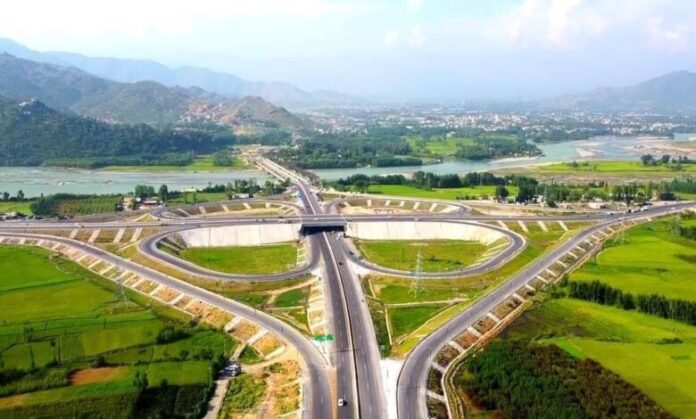 Shehzad Naveed
Sohail Ahmed, hailing from Kabal Tehsil in Swat District of Khyber Pakhtunkhwa, tends to a diverse range of fruit trees in his orchards, including peaches, pears, and various apple varieties. However, the preservation of his orchards has become a growing concern for him due to the potential utilization of his land for government development projects. He is actively participating in daily protests against the government in order to safeguard his property.
Back in 2009, the home of Sohail Ahmed, a guardian of the land, suffered significant damage during the insurgency in Swat. Recently, his orchards have also been partially affected by floods. Despite these challenges, the government's response remains lacking.
Sohail Ahmad reflects that after years of painstaking effort, just when his fruit-bearing trees started to flourish, the government invoked Section 4 of the Land Acquisition Act on his 20 kanal 7 marla land. He describes this action as a form of economic devastation.
Sohail Khan firmly believes that he is being unfairly targeted due to his political and social standing. He emphasizes that his orchard is not easily accessible as there is no proper road leading to it, yet his land has been subjected to Section IV, pushing him toward economic ruin.
Balancing Agricultural Lands and Section IV
Based on data accessed through RTI from the office of the Deputy Commissioner in Swat, a multitude of projects across various departments are currently underway. These projects involve the implementation of Section Four, as applied by the respective departments.
Former Deputy Commissioner Junaid Khan previously stated that committees were established for projects that encompassed agricultural land. These committees include local community elders, whose involvement is instrumental in addressing the concerns of the local population. The goal is to find solutions that protect valuable agricultural land.
Also Read: Sun-Powered Transformation: Bajaur Farmers Thrive with Solar Tubewells
Deputy Commissioner Swat, Junaid Khan, outlined that compensation for affected landowners would be determined based on the annual yield of their land. However, this compensation amount falls below the market rate.
In accordance with the prevailing market rates, land values range from Rs. 80 to Rs. 120 per square foot, while cultivated land is valued at up to Rs. 200 per square foot. Regarding the pricing of land designated for Motorway Phase Two, local property dealer Farooq Khan noted that the assigned values are relatively conservative. Under Section Four, the per-square-foot price for these lands falls within the range of 700 to 800 rupees, whereas sub-cultivated land is priced between 1000 to 1200 rupees.
Swat Motorway Phase Two: Enhancing Connectivity
The comprehensive map for Motorway Phase Two, spanning from Chakdara to Fatehpur, has been meticulously prepared. The ceremonious inauguration of this monumental endeavor, Swat Motorway Phase Two, was conducted by former Chief Minister of Khyber Pakhtunkhwa, Mahmood Khan, on May 20, 2022. This 80-kilometer-long motorway is poised to connect Chakdara Interchange to Fatehpur, presenting a transformative infrastructure project with a total projected cost of 58 billion rupees. The initiative will be executed through a Public-Private Partnership, with construction set to commence on November 28.
The tangible benefits of Motorway Phase Two are poised to be profound. Upon its completion, the travel time from Mingora to Islamabad will be condensed to a mere two hours, while the journey from Mingora to Peshawar will be expedited to two and a half hours. A notable enhancement considering the present travel durations of three hours from Mingora to Islamabad and four hours from Mingora to Peshawar. This phase of the motorway encompasses strategic interchanges at Shamuzai, Barikot, Mingora, Kanju, Malam Jabba, Swat University, Sherpalum, and Matta. The motorway's culmination point will be at Fatehpur, thus serving as a pivotal artery for enhanced connectivity.
Progressing Swat's Infrastructure
Insights from the Population Department reveal that Swat district spans a land area of 1.8 lakh kanals, wherein nearly half is comprised of mountains and barren terrain. The remaining 9 lakh kanals encompass the habitable and populous regions.
Another significant development poised to transform Swat's landscape is the Swat Expressway, often referred to as the Swat Motorway. Spanning 80 kilometers, this highway is strategically planned to commence from Chakdara and seamlessly conclude at Fatehpur, contributing to the district's comprehensive infrastructure evolution.
Public Outcry and Proposed Alternatives
The impending project has sparked vehement opposition from local residents whose agricultural lands and homes face the threat of being marked for the Swat Motorway Phase Two. This discontentment is finding expression through ongoing protests by community elders.
Umar Ali Shah, who stands directly affected by the proposed development, asserts that the government's ideal course should be to construct Motorway Phase Two along the Swat River's banks. He deems the current map tantamount to an economic assault on landowners and insists it must be retracted. Shah advocates an alternative route in alignment with agricultural laws, contending that Swat's landscape predominantly lacks arable land.
Shah, an advocate, raises a sterner objection, accusing the government of blatant violations of multiple statutes including the Environmental Protection Act of 1997, Land Acquisition Rules, Agricultural Rotation Act, and River Protection Act. Despite relentless protests, he asserts that the government remains unyielding.
In a resolute declaration, the aggrieved parties impacted by Motorway Phase Two proclaim, "We stand firm—our bodies, not the fertile fields, shall bear the burden of the Motorway's passage. We won't take lives, but we will not shirk martyrdom. This project spells the economic demise of Swat's populace."
A Balancing Act: Swat Motorway's Impact on People and Environment
Amidst debates over the Swat Motorway Phase Two, questions arise about its alignment with the welfare of the populace and the environment. Alhaj Zahid Khan, Member of Swat Qaumi Jirga and President of the All Hotel Association highlights a concerning aspect—extensive agricultural land allocation and the anticipated felling of around 500,000 trees. This trajectory would not only impact the landscape but also disrupt the livelihoods of laborers, tractor operators, fruit cultivators, and vendors—around 100,000 individuals in total.
Khan further underscores the adverse environmental repercussions of constructing a road between communities. The resulting vehicle emissions and noise pollution could give rise to grave health issues among the local inhabitants.
Ahmed, a lawyer, underscores the years-long struggle to safeguard the interests of Swat's primarily agrarian population. The proposition is clear: Swat Motorway Phase Two should find its place along the banks of the Swat River, sparing the precious agricultural lands. Developing the motorway on these lands is tantamount to economic devastation, which the locals vehemently reject.
He reveals that resolutions have been repeatedly presented across various departments advocating for the motorway's alignment along the riverbanks, complete with a map prepared by the Irrigation Department. Yet, no action has followed. Ahmed states, "We have consistently warned higher authorities that building Swat Motorway Phase II on agricultural lands jeopardizes the people's sole means of sustenance. Unfortunately, our pleas have remained unheard."
Fazal e Rabi, an affected individual by Motorway Phase 2, delivers an emphatic message: Should the government persist in constructing the motorway on agricultural lands, they would have to traverse the protestors' bodies. He appeals fervently to higher authorities to avoid subjecting the people of Swat to oppression.
Ijaz ul Haq, another protester, underscores a specific demand: aligning with a map established by the Irrigation Department and constructing Motorway Phase Two along the Swat River's banks instead of usurping agricultural lands. In the absence of reconsideration, he warns of an expanded protest movement spanning Peshawar, and Islamabad, and the establishment of protest camps at the tehsil level, even pursuing legal avenues.
According to the protestors, the 57 billion project has incalculable losses amounting to over 600 billion—manifesting as unemployment, agricultural destruction, and economic setbacks for the populace.
Balancing Progress and Conservation
The discussion surrounding Swat Motorway Phase Two also prompts reflections on its ecological impact. Naseerullah Khan, an environmental expert, underscores a concerning absence—an environmental assessment for the project. This glaring omission, according to Khan, transgresses the Environmental Act of 2012 and international climate change regulations. Additionally, this oversight clashes with the Board of Revenue Notification of 2020 and the government's Land Protection Act of 2021.
Environmental analysts stress that Swat is susceptible to various natural calamities, including earthquakes and floods. Taking these vulnerabilities into account, initiating work on Motorway Phase Two demands careful consideration.
Shaukat Sharar, an architect-engineer hailing from Swat, advocates for an alternative approach—constructing the motorway alongside the river. This realignment would appease the local community, satisfying their demands. Beyond safeguarding agricultural land, a riverside motorway could present a tourist-friendly feature, enhancing the region's allure. Sharar also posits that extending the lease period could open doors to more lucrative investment opportunities.
Development vs. Dilemmas: Government's Stance
During his visit to Swat on December 16, former Chief Minister of Khyber Pakhtunkhwa, Mehmood Khan, posed a poignant question concerning Motorway Phase Two. He highlighted how Swat and Malakand Division have endured both natural disasters and terrorism in the past. Regrettably, instead of prioritizing development in these regions, previous leaders focused on personal gains. Mehmood Khan emphasized his commitment to addressing Swat's challenges through practical and concerted efforts.
Former Chief Minister Mehmood Khan envisions Motorway Phase Two as a catalyst for transformative development in Swat and the Malakand Division. This infrastructure project holds the promise of not only easing travel for locals and tourists but also bolstering the region's burgeoning tourism industry.
Amid these deliberations, agricultural landowners have issued a stark warning to the government: construct the motorway along the banks of the Swat River rather than encroach on agricultural land. Their resolve echoes loudly, underscoring the depth of their concerns: "If the government proceeds with construction on our agricultural land, they will have to pass over our bodies first."
Hits: 8