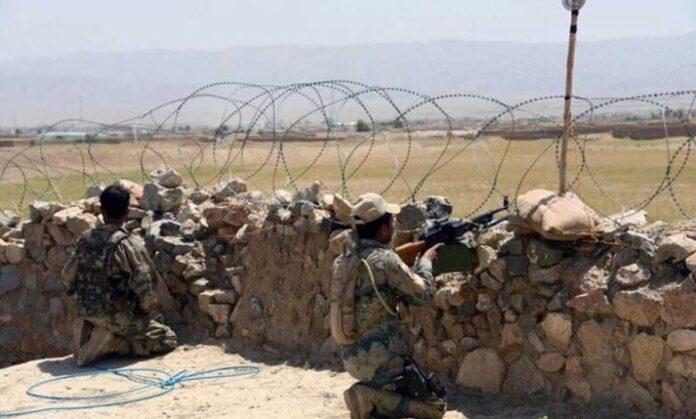 Terrorists launched a brazen assault on two army posts along the Pak-Afghan border in the Kailash area of Chitral, resulting in the martyrdom of four Pakistan Army soldiers.
The Inter-Services Public Relations of the Pakistan Army (ISPR) reported that a substantial group of terrorists armed with modern weaponry initiated the attack on the army posts. Swift and effective retaliation from security forces ensued, leading to a fierce exchange of fire between the two sides.
ISPR revealed that the security forces successfully repelled the attack, inflicting substantial casualties upon the terrorists. In the intense firefight, four brave soldiers lost their lives, while 12 terrorists were neutralized, and numerous others sustained severe injuries.
Also Read: Journalists in AJK Face Threats and Legal Challenges
ISPR also underlined that timely intelligence had been shared with the Afghan Interim Government concerning the movement of terrorists within the Afghan provinces of Nooristan and Kunar. Pakistan hopes that the Afghan Interim Government will fulfill its responsibilities and prevent its territory from being utilized as a staging ground for terrorist activities against Pakistan.
Highlighting Pakistan's unwavering commitment to combat terrorism, ISPR stated that the sacrifices made by its military personnel only serve to fortify the nation's resolve.
It was further noted that the army checkposts had been placed on high alert due to prior threat warnings. Concurrently, a clearance operation was being carried out in the region to eradicate potential terrorist threats.
Explosion in North Waziristan Claims Two Lives, Leaves 34 Injured
A devastating landmine explosion rocked Shawal Tehsil in North Waziristan, resulting in the tragic loss of two lives and injuries to 34 individuals.
As per security sources, the explosion occurred last night, targeting a civilian vehicle in Jahangir Bazar within Tehsil Shawal. Tragically, two individuals lost their lives in the blast, and 34 others sustained injuries. The injured were promptly transported to a nearby hospital for medical treatment, with the deceased identified as Dost Muhammad and Noor Baki Jan.
Sources disclosed that the victims were laborers from pine nuts, making them the apparent targets of this heinous explosion.
In the aftermath of the blast, law enforcement cordoned off the affected area and initiated a comprehensive investigation into the incident.
Hits: 28