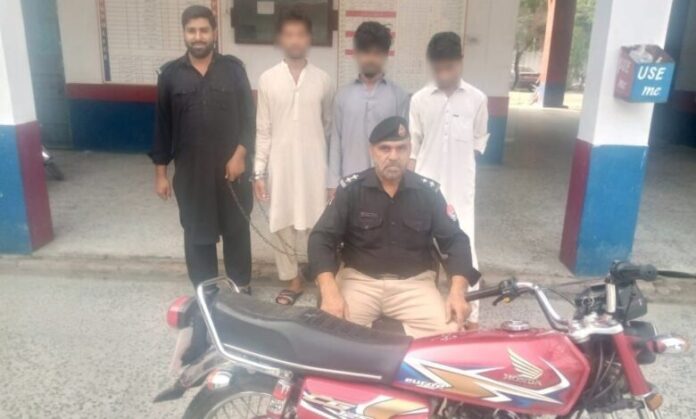 In Tangi Tehsil of Charsadda, three individuals have been apprehended on charges of engaging in communal misbehavior with eunuchs. The local Station House Officer (SHO), Behrmand Shah, confirmed that the motorcycle utilized during the incident has also been recovered from the possession of the suspects.
The Tangi Police Station received a report regarding the mistreatment and torture of eunuchs, leading to the registration of a case against the alleged perpetrators. The accused, identified as Nauman, Mansoor Ahmed (also known as Sheena Fauji), Muhammad Ali (also known as Kaanrey), and an unidentified individual, were charged based on a complaint filed by Khawaja Sher Khan, also known as Gurgora.
Also Read: Caretaker Government Hikes Fuel Prices Again, Sparking Public Outcry
In response to the incident, the District Police Officer of Charsadda, Muhammad Arif, promptly issued directives to law enforcement to apprehend the suspects. Acting swiftly, SHO Tangi Bahrmand Shah Khan oversaw the arrest of Nauman, Mansoor Ahmed (Sheena Fauji), and Muhammad Ali (Kaanrey).
During preliminary investigations, the accused have confessed to their involvement in the crime. Furthermore, the motorcycle linked to the incident has been retrieved from the possession of the arrested individuals. Law enforcement efforts are ongoing to apprehend the fourth suspect, who remains at large in connection with the case.
Hits: 18