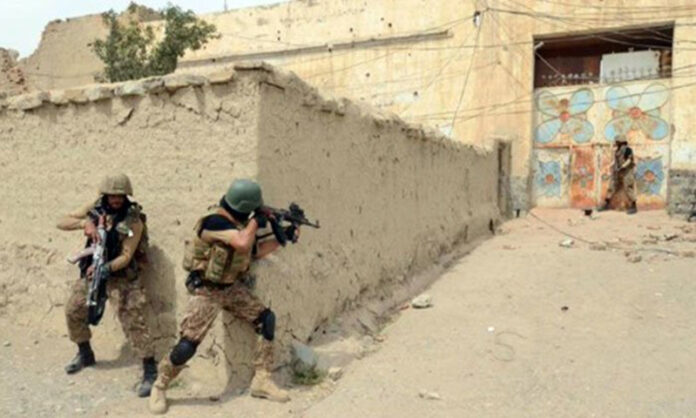 At least two security personnel lost their lives during an exchange of fire between security forces and terrorists in the North Waziristan district of Khyber Pakhtunkhwa. The intense retaliatory action resulted in the elimination of two terrorists, while two others sustained injuries.
The Public Relations Department of the Pakistan Army (ISPR) reported that the security forces successfully neutralized two terrorists and recovered arms and ammunition from their possession. Naik Zaheer Abbas, aged 38 and hailing from Khushab district, and Lance Naik Miraj ud Din, aged 23 and a resident of Dera Ismail Khan, tragically lost their lives during the operation.
Also Read: ANP Urges PM for Judicial Inquiry into Terrorist Resettlement in KP
ISPR further stated that a comprehensive clearance operation is underway in the area to root out any remaining terrorists. The authorities are committed to ensuring the safety and security of the region by eliminating the threat posed by these extremists.
It is distressing to note that North Waziristan has witnessed an increase in terrorist activities in recent times.
Just a few days ago, unidentified armed individuals targeted an anti-polio team, resulting in the death of a police officer and injury to another. The incident occurred in North Waziristan's Spinwam Tehsil, where police officers tasked with safeguarding the anti-polio team came under gunfire.
Moreover, in a separate incident in May, two girls' schools fell victim to a devastating attack by unidentified assailants who detonated explosives, causing significant damage to the educational institutions.
Hits: 8