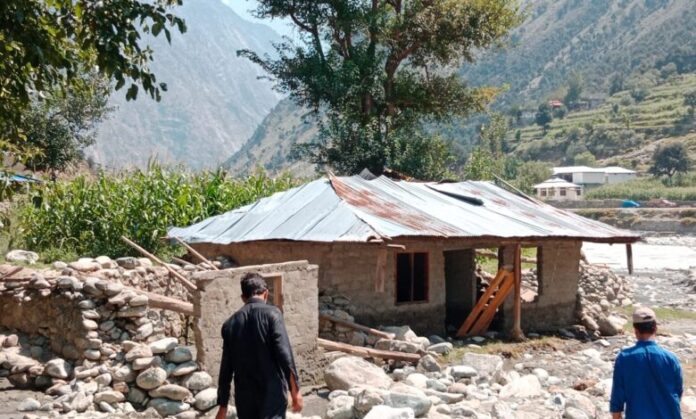 Flood affectees of Upper Kohistan district complain that they have not been compensated by government despite suffering huge losses in last year floods.
A Provincial Disaster Management Authority (PDMA), report states that a total of 433 houses were damaged in this mountainous district. Of this 105 houses were completely destroyed while 328 others were partially damaged.
Many of these flood affectees are forced to live in tents since the August floods.
"We have suffered losses worth millions of rupees but government has not helped us in any way," they said.
Shah Faisal, a flood affectee told TNN that his joint family was living in a house which had 16 rooms. He said that all these rooms were destroyed in floods and the area on which the house was built was still under water. Besides, he said that government has not compensated for the losses they suffered in floods.
"We are still living in floods and women, children and elderly are facing problems," he said.
Kohistan is one of the colder regions of the country and it is difficult to live in tents in winters. In addition to this, unavailability of water and roads is making the lives of the flood affectees even more difficult. Due to these issues, some of the flood affectees have temporarily relocated to other areas.
Saifullah, a local said that floods not only destroyed their homes but also washed away water channels, electricity and roads. "How one is supposed to live in this area without basic necessities," he said. He said that about half of the population has migrated to other areas while remaining were trying to cope with difficulties caused by floods.
Rs 1 billion in losses
Didar Khan, a former member of provincial assembly from the area told the TNN that the previous government was working to rehabilitate the flood damaged areas.
However, he said that due to bad roads of the mountainous area, reconstruction efforts were a bit slow.
However, he said that main road of the district has not been fully restored so far.
"Initial surveys showed the district suffered losses worth Rs 1 billion in floods and we had submitted a report to the provincial government," he said.
However, he said that it was their priority to restore roads in the first phase followed by water channels. However, he said that a large number of houses were also destroyed in the floods and they will be compensated soon.
Besides, Upper Kohistan, floods had destroyed large number of houses in Kolai Palas and Lower Kohistan and people are forced to live in tents.
Hits: 8