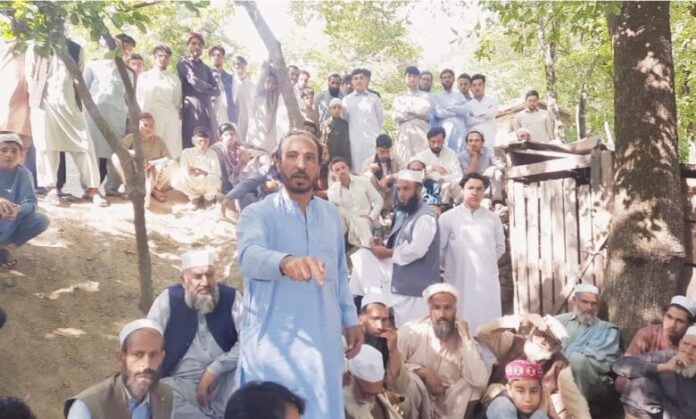 Nasar Zada
In a bid to restore peace and order, the residents of Shalga, Nahagadara, located in Tehsil Wari of the district Upper Dir, have taken a resolute stand against criminal activities by imposing a social boycott and fines on wrongdoers.
This significant decision was made during a gathering attended by local leaders, where all participants took an oath on the Holy Quran, pledging to refrain from cooperating with criminals.
Representatives from various ethnic groups, including Shaw Khel, Hawaja Khel, and Sheikhan of Nahagdara, solidified their commitment to this cause by signing a written agreement.
Also Read: A Tola of Gold: Jirga sets amount of Dower in Lower Dir
The agreement categorically stated that individuals involved in acts of violence, robbery, drug peddling, or illegal timber trade from Shalga would be disassociated from the community. They would neither receive cooperation nor be allowed to be buried in the common graveyard, with no one assuming responsibility for their actions.
Prominent leaders of the area, namely Haji Sherdal Khan, Malik Amrat Khan, Malik Muhammad Zareen, and Malik Haroon Khan, emphasized that the primary objective behind this decision is to establish peace and safeguard their children from the detrimental effects of drug abuse.
While acknowledging the role of the police and local administration in crime prevention, they also highlighted the crucial role that community support plays in the effectiveness of such efforts.
The people of Shalga, Nahagadara, expressed their unwavering commitment to collaborate with the administration in the future, ensuring a united front against criminal activities.
By taking this collective stance against criminals, the residents of Shalga are demonstrating their determination to create a safe and secure environment for their community.
This proactive approach, rooted in the principles of unity and shared responsibility, signifies a powerful step towards combatting crime and fostering a peaceful society.
Hits: 21