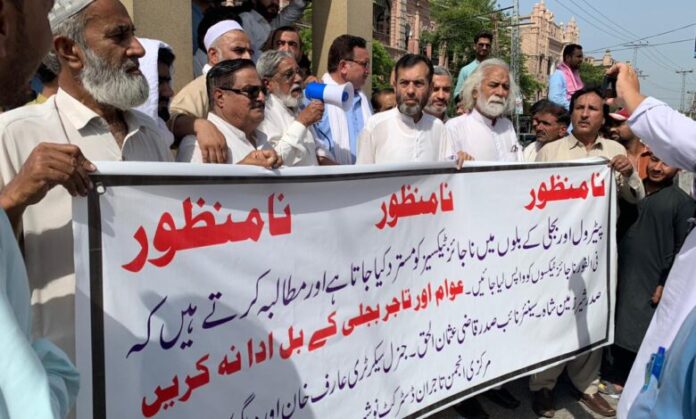 Hudaibia Iftikhar
"I fear I might succumb to a heart attack because of inflation. This month's electricity bill has only intensified that fear," expressed Nagina Khan, a housewife from Nowshera, who struggles to make ends meet.
She noted that news about inflation hikes has become routine for the people of Pakistan. Every fortnight brings breaking news about surges in petrol and electricity prices, and the shock factor remains ever-present.
Notably, nationwide protests against the electricity price surge have persisted for a week. Protestors demand a reduction in electricity bills and are even resorting to burning their bills. The overarching demand is to remove additional taxes before they consider paying their electricity dues.
The movement against escalating electricity costs began in Azad Kashmir. The viral footage of the initial demonstration ignited a chain reaction of protests across the nation, all directed against the soaring electricity bills.
Also Read: Family Protests Alleged Police Violence After Youth's Death in Swat
Reflecting on the past, Nagina Khan used to set aside some savings from her husband's income, meant for household necessities and children's fees. However, the recent inflation surge has made running the household an uphill battle – exemplified by the staggering electricity bill this month.
The ripple of inflation has affected the poor and the middle class, who manage to scrape by. But for daily wage earners from the lower strata like Aziz Gul Kaka, earning a mere 500 to 600 rupees daily, the recent economic woes have made survival more harrowing.
Aziz Gul Kaka, a breadwinner for a household of six, earning a monthly wage of 20,000 rupees, faces the reality of an 8000-rupee electricity bill this month, as opposed to the usual 1000 to 1500 rupees. The dilemma between paying the bill and feeding his family looms large. Caught between the threat of a meter removal and providing sustenance, Aziz Gul questions the fairness of a system where those in power enjoy free electricity while the poor are squeezed dry.
Nimra Khalid, a Controller of Examinations in a private college, is also grappling with the rising electricity bills. Her salary of forty thousand rupees carries the weight of her ailing parents' medical expenses, and this month's bill was a stark jolt, causing her to resort to a loan.
Nimra appealed for government compassion, urging them not to push the poor to insolvency over electricity dues.
Sadly, such financial blows have become a daily ordeal in Pakistan. With petrol prices skyrocketing to 300 rupees per liter, the cost of essential commodities has surged immensely. Inflation's grip is so tight that even those with substantial incomes are far from content.
Shafi ud Din, earning up to two lakhs a month working in a cement factory, is also bearing the brunt of escalating electricity costs. He shared that despite a flourishing business, the pervasive price hikes have eroded his satisfaction and financial stability.
Shafi ud Din recounted how running an air conditioner for a few hours during the previous month's intense heat led to a staggering one lakh rupee electricity bill. This looming expense has wiped out his earnings, raising the question of how other expenditures will be managed.
Shafi ud Din implored government bodies to reconsider the additional taxes on electricity bills, as this would alleviate the burden of inflation and permit people to live with dignity.
Hits: 1