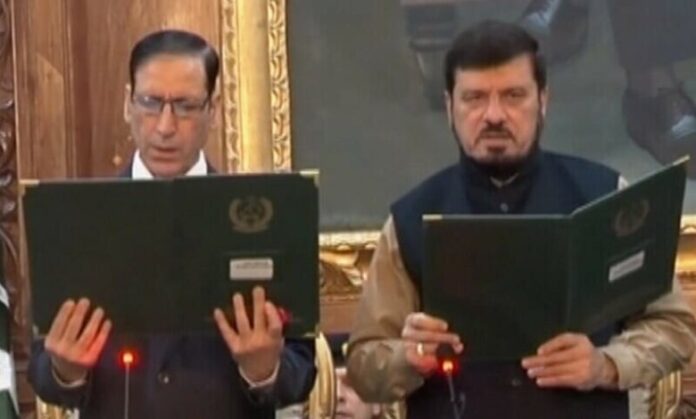 Aftab Mohmand
The formation of the caretaker cabinet in Khyber Pakhtunkhwa has concluded, marking a significant step in the province's political landscape. While many ministers from the previous cabinet are expected to retain their positions, there are indications of new faces joining the lineup. Consultations for the inclusion of new ministers are actively underway.
The swearing-in ceremony for the new caretaker cabinet is scheduled to take place formally at the Governor House in Peshawar. Governor Khyber Pakhtunkhwa, Haji Ghulam Ali, will administer the oath to the cabinet members, with the ceremony likely to unfold today.
Following the recent demise of former Caretaker Chief Minister Muhammad Azam Khan, the provincial cabinet was dissolved. The caretaker cabinet, comprising 15 members, including the former chief minister, 11 provincial ministers, 2 advisors, and a special assistant, ceased to exist. By the constitution, Khyber Pakhtunkhwa allows for 16 ministers and 5 advisers in the cabinet, with no constitutional limitations on the number of special assistants.
Also Read: Terrorists Strike Again: Fatal Attack on Gas Drilling Convoy in Dera Ismail Khan
The caretaker chief minister, Justice Retired Syed Arshad Hussain Shah, was elected yesterday before the cabinet formation. Governor Haji Ghulam Ali, in consultation with former Chief Minister Mahmood Khan and Opposition Leader Akram Khan Durrani, approved the appointment. The swearing-in ceremony for Syed Arshad Hussain Shah took place promptly, and he has since assumed his responsibilities.
This marks the third time the caretaker cabinet is being formed in the province, following earlier instances when Pakistan Tehreek-e-Insaf left the government in January 2023 and subsequent political transitions. The evolving political landscape in Khyber Pakhtunkhwa reflects a commitment to governance amidst changes and challenges.