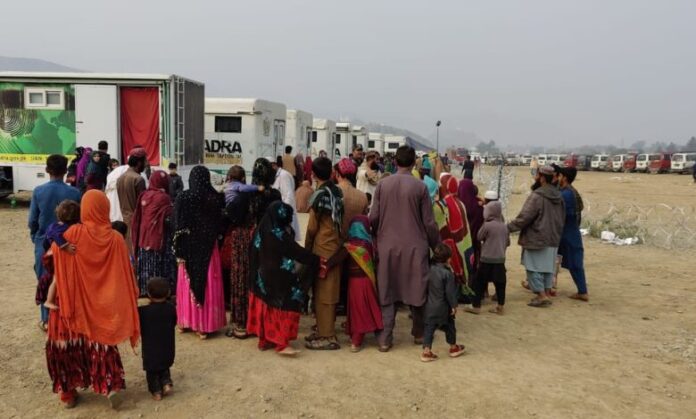 The Khyber Pakhtunkhwa Police has set its sights on refusing migrants, announcing the commencement of a dedicated operation on Monday. This crackdown will be carried out in collaboration with the district administration, targeting those illegally residing within the region.
As part of this initiative, comprehensive information regarding illegal resident foreigners who have refused to leave has been gathered. In Peshawar alone, the identities of over 20,000 such migrants have been confirmed. Those apprehended during the operation will be deported through the Torkham border.
The police have further disclosed that after addressing the situation in Peshawar, the operation will extend to Khyber and Nowshera. This phased approach will be adopted province-wide, all while respecting Pashtun customs and traditions.
Also Read: Symbol of Return: Baby "Watan Rawan Khan" Born in Afghan Refugee Camp
In related developments, the Afghan Commissionerate has reported a substantial return of Afghan citizens to their homeland since October 1. This repatriation process involves individuals who have been residing in Pakistan illegally. In the past 24 hours, approximately 9,000 Afghan citizens have made their way back to Afghanistan via the Torkham border crossing.
It is crucial to note that the deadline for illegally staying foreigners to depart Pakistan lapsed on November 1. Official sources confirm that Afghan citizens residing unlawfully in Pakistan are being permitted to enter Afghanistan through the Torkham border, provided they are duly registered at Khyber's Landi Kotal entry point.