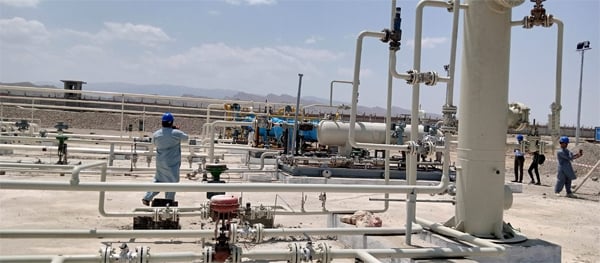 Anwar Khan
The gas field, Wali (Bettani), located in Lakki Marwat, Khyber Pakhtunkhwa, has achieved a significant milestone by successfully connecting to the national grid. With a production of one crore 30 lakh cubic feet of gas per day, this development marks a major achievement for the oil and gas industry in Pakistan.
Zarar Hussain, the in-charge of Wali (Bettani) Oil and Gas Plant, revealed that the project commenced in July of the previous year and was seamlessly connected to the national grid on June 16, 2023. In addition to the substantial gas production, the plant is also producing one thousand and ten barrels of oil per day.
Hussain further explained that the gas produced from the Bettani Oil and Gas Plant is being supplied to the national grid, significantly contributing to the country's energy resources. The crude oil extracted from the field will be transported to Attock Oil Refinery via tankers.
Also Read: Tragic Greek Boat Accident Highlights Pakistani Illegal Migration Crisis
This accomplishment is considered a remarkable success for the Oil and Gas Development Company Limited (OGDCL). Hussain emphasized that the swift completion of the plant within a year exceeded their initial expectations. The dedicated team worked tirelessly day and night to ensure the success of the project.
It is worth noting that the oil and gas reserves in Bettani were discovered in 2021, prompting OGDCL to initiate work on the plant in July 2022, which has now reached completion.
Habibullah, the OGDCL North Region Manager, stated that typically, it takes several years to establish a successful oil field. However, due to the prevailing energy crisis, the project had to be expedited. Furthermore, two additional wells are currently under development in the area, with expectations of increasing daily gas production to 50 million cubic feet and oil production to 6,000 barrels per day within the next two years.
Despite being in a remote area with security challenges, Habibullah expressed confidence in overcoming such obstacles and continuing the journey of success. He also acknowledged the unwavering support of law enforcement agencies in ensuring a safe working environment.
Energy experts have highlighted that Pakistan is among the countries that annually export oil and gas worth billions of rupees. With the successful implementation of two more projects, the savings on production are projected to exceed USD 176 million by the end of the current fiscal year, providing significant economic benefits.
Hits: 22