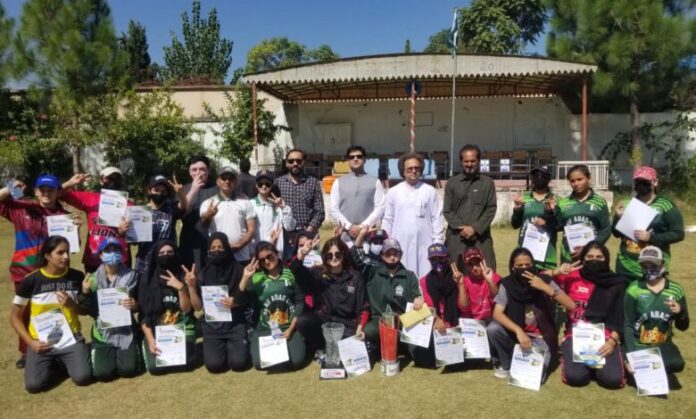 Rafiullah Khan
Following the Swat conflict, a riveting women's cricket match was arranged, and Mingora's cricket team emerged victorious over Kabal by a mere seven runs in a nail-biting encounter.
Last Sunday, a dispute arose leading to the cancellation of the initial women's match at the Charbagh Sports Complex. Consequently, the district administration orchestrated a fresh contest at the Government Girls' Higher Secondary School in Kabal, Swat.
Expressing their disappointment over the Charbagh cancellation, the women players were elated by the management's dedication to reschedule the match. They conveyed their willingness to participate in future fixtures of a similar nature.
Also Read: Top Achievers Shine in Peshawar's Intermediate Exam Results
In this fiercely contested match hosted at the Government Girls High Secondary School, the Kabal team won the toss and opted to field first. Mingora's cricket team posted a total of 129 runs during their allotted ten overs while batting first. Manahil was the standout performer, amassing 76 runs, while Mehvish contributed with 28 runs.
In response, the Kabal team adopted a measured approach, with Shehla making a valiant effort by scoring 96 runs but ultimately falling short of securing a win for her team.
As the match reached its climactic final overs, the Kabal team required 20 runs for victory but managed to accumulate only 13 runs. Consequently, Mingora clinched victory by a slender margin of seven runs.
The chief guest, including Assistant Commissioner Babuzi Luqman Khan, Assistant Commissioner Kabal Junaid Khan, Taekwondo International Gold Medalist Ayesha Ayaz, Swat Press Club President Rafiullah Khan, and others, presided over the awards ceremony. They distributed trophies, certificates, and cash prizes among the players.
In closing, Ayaz Naik, the match organizer, expressed his gratitude to the district administration and organizers. He voiced hope that they would take proactive measures to foster sports and offer increased opportunities to athletes, particularly women.