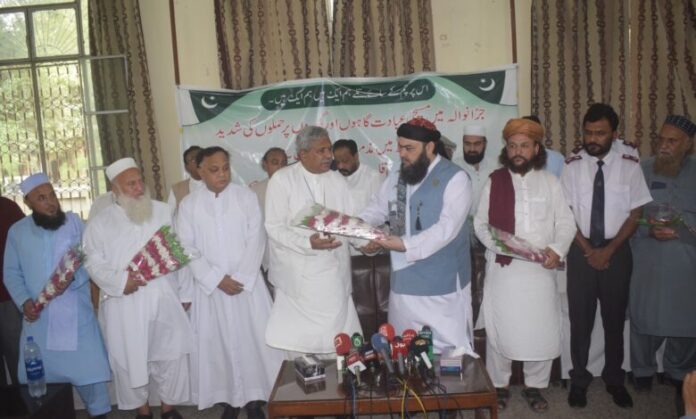 Scholars from various schools of thought in Khyber Pakhtunkhwa paid a visit to St. John's Cathedral Church in Peshawar.
During this gathering, Maulana Tayyab Qureshi, Chief Khatib (preacher) of Khyber Pakhtunkhwa, expressed his deep regret over the tragic incident in Jaranwala, emphasizing that such occurrences should never have transpired. He denounced the attempts to tarnish Pakistan's image, which he strongly condemned, and called for strict legal action against those responsible for the incident.
Maulana Tayyab Qureshi asserted that their presence at the church signified solidarity with the Christian community in the wake of the church burnings in Jaranwala. He stressed that using religion as a pretext to target minorities would not be tolerated. He highlighted the constitutional freedoms granted to all religions in Pakistan and underscored the prohibition against using religion to harm anyone.
Also Read: Temporary Restoration of FATA Tribunal to Address Pending Cases
Chief Khatib stated that just as the Christian community had condemned incidents involving the desecration of the Holy Quran, they were now expressing solidarity with Christians and were present at the church. He demanded a thorough judicial inquiry into the incident and insisted on severe punishment for those found guilty.
Bishop Sarfraz Humphrey expressed gratitude to the scholars, particularly Chief Khatib, for standing in solidarity with their community. He condemned the desecration of all religious texts, particularly the incident where Christian religious books were desecrated, churches were set ablaze, and innocent people's homes were burned down.
The bishop emphasized that relying solely on a judicial inquiry would be insufficient. Similar incidents have occurred in the past and continue to happen. He called for robust legislation to prevent such incidents and ensure the protection of minority rights.
Bishop Sarfaraz Humphrey recounted the incidents that have taken place since 1997, including the recent Jaranwala incident. He stressed the importance of preventive measures against such occurrences and urged for comprehensive legislation to safeguard minority rights, asserting that these rights have not been adequately upheld.
It's worth noting that violent incidents on August 16 led to the burning of 19 churches in Jaranwala Tehsil of Faisalabad District in Punjab Province. The investigation report revealed that 86 houses were vandalized and set on fire during the protests. In Christian Colony, 2 churches and 29 houses were burned, while in Isa Nagri, 3 churches were torched and 40 houses were damaged. Chak 240 witnessed the burning of 2 churches and 12 houses, while 2 churches in Chak 238 and 5 houses suffered the same fate. Additionally, 4 churches were burnt in Chak 126, 2 in Mohalla Farooq Park, and 2 in Maharanwala.
The report also indicated that 158 individuals involved in the arson attacks on churches and homes of Christian citizens have been apprehended, with 116 of them placed in police custody under 5-day physical remand.
Hits: 11