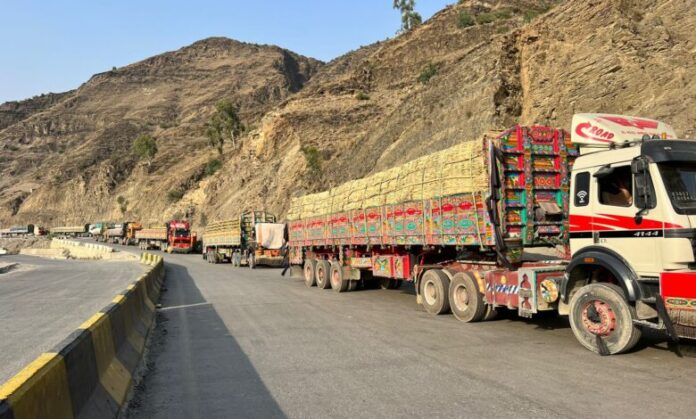 Haroon ur Rasheed
For the past nine days, the Torkham border has remained sealed, halting all traffic between Pakistan and Afghanistan and causing massive queues of trucks laden with goods to form in both nations.
According to Zia-ul-Haq Sarhadi, the Director of the Pak-Afghan Joint Chamber of Commerce and Industry, the deadlock emerged following clashes between Pakistani and Afghan security forces regarding the construction of a checkpoint. This impasse has resulted in the spoilage of perishable goods, including fresh fruits, vegetables, poultry, meat, eggs, and juices, inflicting nearly $3 million in losses on traders.
Sarhadi explained that a staggering 1,500 to 2,000 trucks are stranded from Torkham Zero Point to Landi Kotal, anxiously awaiting the border's reopening. Simultaneously, on the Afghan side, around 2,000 to 2,500 trucks loaded with fresh fruits intended for export to Pakistan are stuck due to the ongoing crisis.
Also Read: Pakistani Doctor Achieves Landmark PhD in Insulin Research in England
Among the perishable items now at risk due to border closures are fruits, grapes, bananas, lemons, watermelons, tomatoes, and various other vegetables. Beyond transit trade goods, a substantial quantity of commodities imported and exported by both countries has been compromised and is trapped due to the border shutdown.
Sarhadi emphasized the daily influx of approximately 150 to 200 trucks carrying soapstone and 100 trucks carrying coal into Pakistan from Afghanistan. The number of trucks transporting fresh fruits and vegetables surpasses these figures. Numerous trucks cross the border into Afghanistan laden with Pakistani exports such as cement, structural iron, poultry, meat, eggs, bananas, and potatoes.
The Director appealed to the concerned parties to swiftly resolve the dispute, asserting that a permanent border closure is detrimental to the economies of both nations and regional trade. He pointed out that some parties are alleging misuse of the transit trade facility and smuggling of exported goods back into Pakistan.
Zia Sarhadi contended that instead of a complete halt to trade activities, the responsibility of various departments working on border security should focus on monitoring incoming and outgoing goods.
Highlighting the broader impact of the border closure, Sarhadi noted that Pakistan's exports to Central Asian countries rely on transit through Afghanistan. Consequently, the border closure disrupts not only bilateral trade but also regional commerce. Besides affecting traders, the border closure has left numerous sick Afghan individuals stranded at the border, worsening their conditions as they seek medical treatment in Pakistan.
Businessman President Shahid Khan Shinwari lamented the substantial daily losses faced by businesses due to the Torkham border's closure. Thousands of transit and export vehicles have remained parked at Khyber Pass for the past nine days, incurring demurrage charges for transporters. Additionally, hundreds of vehicles loaded with vegetables and fruits are stranded on the Afghan side.
Shinwari emphasized that 80% of Pakistan's exports transit through Torkham, making Afghanistan a crucial market for trade and potential business relations with Central Asia. Conversely, Pakistan represents Afghanistan's nearest and most favorable market for its agricultural produce. Both countries are interdependent, and the well-being of their people is intertwined.
Shinwari urged the governments of Pakistan and Afghanistan to resolve their differences and misunderstandings through dialogue, recognizing the need to keep business and commerce separate from political conflicts.
Hits: 11