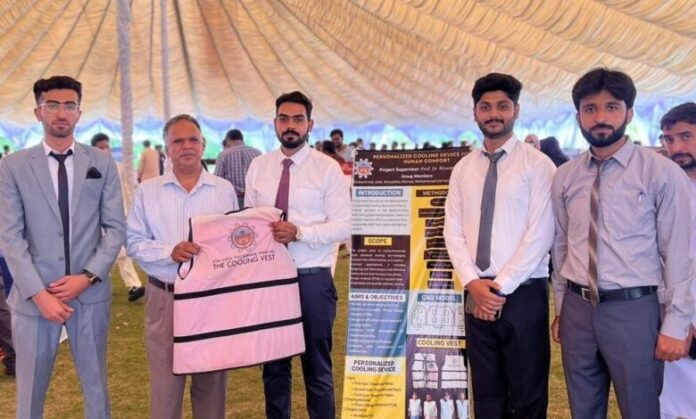 Asmat Khan
Students from the University of Engineering and Technology (UET) in Peshawar have developed an innovative cooling jacket that can effectively keep the human body cool for up to three hours. The students showcased their project at an exhibition held at the university, where the cooling jacket garnered significant attention.
The creators of the cooling jacket claim that it will alleviate the challenges faced by workers who toil under the scorching sun, particularly policemen. Wearing this jacket can help keep workers cool during their hours in the sun and potentially prevent heatstroke.
Muhammad Usman, a student from the Mechanical Department at UET Peshawar, explained the concept behind their project. He stated that their project focuses on cooling technology. Just as people wear jackets in winter, they have designed a jacket that can be beneficial during the summer.
Also Read: Woman Accuses Private Clinic of Wrongly Injecting Pet Dog, Doctors Seek Bail
The jacket utilizes a phase-change material that freezes at 17 degrees Celsius, effectively cooling the human body for two to three hours. The lifespan of this chemical is five years. Their goal is to launch this project in the market within the next one to two months.
Usman mentioned that he and his three friends, Mussadik Ahmad, Shakirullah, and Muhammad Jalal, collaborated on this project. Initially, it took them two to three months to create the first jacket, but now they can produce one jacket in a single day. The cooling jacket costs around Rs 6,000 and is expected to be available in the market for approximately Rs 7,000.
The unique feature of this jacket is that after three hours, the phase-change material can be recharged by placing it in ice or cold water for 20 minutes, allowing for reuse.
Usman expressed his hope for government support in developing even better jackets in the future, enabling them to supply larger quantities to the public at a lower cost.
Hits: 40