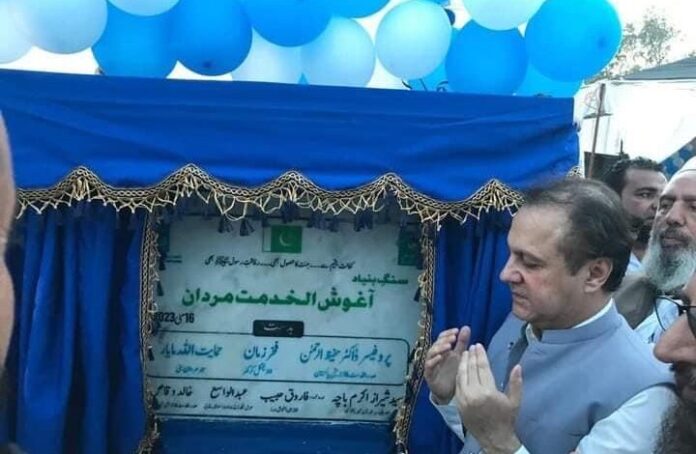 Abdul Sattar
The foundation stone of Aghosh Home, a project aimed at supporting 200 orphan children, was ceremoniously laid in Mardan, Khyber Pakhtunkhwa (KP). The construction of this facility, estimated to cost 16 crore rupees, is scheduled to be completed within two years.
The event witnessed the presence of notable personalities, including Fakhr u Zaman, the star player of the national cricket team, and Himayatullah Mayar, the Mayor of Mardan City, along with the central president of Al-Khidmat Foundation Pakistan, Prof. Dr. Hafeezur Rahman. Collaboratively, they performed the foundation stone laying ceremony of Aghosh Home, underscoring their commitment to this noble cause.
During the gathering, the speakers lauded the commendable welfare activities carried out by Al-Khidmat Foundation across the country. They highlighted the organization's significant contributions during times of natural disasters such as earthquakes, floods, and the global pandemic of COVID-19.
Also Read: Peshawar's Clean and Green Campaign Unveils Striking Wall Paintings by Students
In a show of support, Mayor Allah Mayar announced a generous donation of one million rupees towards the construction of Aghosh Home. It is worth mentioning that Allah Mayar had previously played an active role in facilitating the allocation of 20 kanals of municipal committee land on Mayar Road for the establishment of Aghosh Home.
Fakhar-u-Zaman, the renowned cricketer, expressed his appreciation for the establishment of Aghosh Home in Mardan. He pledged his unwavering support and emphasized the importance of collective efforts in fulfilling our national and religious duty of sponsoring orphans.
He also expressed confidence that the people of Mardan would wholeheartedly cooperate with the Al-Khidmat Foundation in this noble endeavor.
Khalid Waqas, the President of Al-Khidmat Foundation KP, along with other speakers, hailed the establishment of Aghosh Home as a remarkable gift for the people of Mardan. Al-Khidmat Foundation is committed to providing free accommodation, education, and various other facilities to 200 orphan children through this initiative.
During the event, the attendees were briefed about the Aghosh Home project in Mardan, and commemorative shields were presented to the distinguished guests as a token of gratitude and appreciation.
Hits: 12