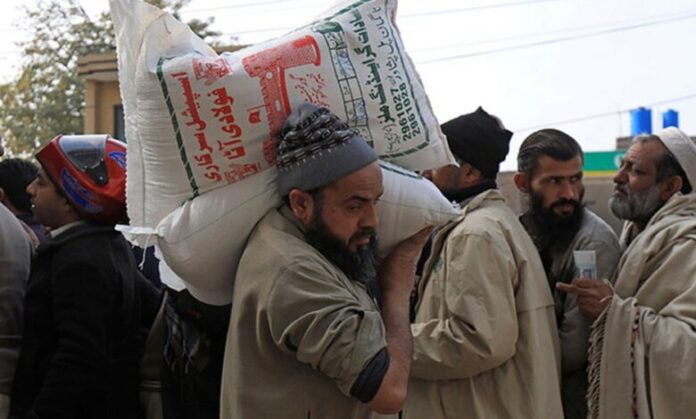 Nazia
In this era of back-breaking inflation, poor people were pleasantly surprised when the government announced the distribution of three bags of free 10-kg flour to deserving families in Islamabad, Khyber Pakhtunkhwa, and Punjab, by the order of Prime Minister Muhammad Shahbaz Sharif, wondering how suddenly, this seemingly unkind government had shown kindness.
However, the happiness and surprise of the poor people did not last long as this act of kindness led to the loss of lives and injuries to many individuals, not to mention the dent in their self-esteem, which no one seemed to care about.
Unemployment and poverty have taken a firm hold on the country, affecting even those in agricultural areas who are struggling to make ends meet. The lack of educational and employment opportunities further compounds the challenges faced by poor parents, who find it difficult to provide even two meals a day for their children. In such dire circumstances, the distribution of free flour becomes a lifeline for these families.
However, the process of obtaining free flour is arduous, with long queues since Ramadan, a state of fasting and waiting. As the truck arrived, elderly citizens were crushed underfoot. A picture of a senior citizen, with a bag of flour placed near his body, circulated on social media, leaving a lasting impression of sadness.
Women were also seen standing in long queues to obtain flour, and there seemed to be no end to their suffering.
Also Read: CM KP directs to keep an eye on Free Flour Dealers 
The following questions are worth considering:
When utility bills can be delivered to households, why can't flour be delivered to the poor?
When politicians can go door to door seeking votes, why can't they go door to door to distribute flour?
Why is the government's treasury empty when it comes to the poor, despite spending crores and billions on other expenditures?
The fact is that people who were once dying of hunger are now dying for the free flour provided by the government. People are going to great lengths to obtain free flour, sometimes at the cost of losing their lives due to the crowd. In some places, they are dying due to fights over the distribution of flour. The poor are forced to do whatever it takes to survive.
When the poor arrive to collect their share of flour, they are often told that it is running low and that they must return later. This is a cruel joke, as stealing and snatching are not considered good, but the poor cannot be considered bad if they steal to satisfy their hunger. The situation of poverty is so dire that if the poor do not take their rightful share, they will be deprived of it. If the poor are given their reasonable share with dignity, they will not have to resort to stealing.
Children are dying due to hunger and disease, and it is evident that the poor would prefer to steal flour rather than watch their children suffer from hunger. But the problem is that people who are stealing bread from each other are also forced to do so out of hunger.
While the government has taken the commendable step of ensuring the supply of free flour to the poor, a more effective mechanism for its distribution needs to be adopted.
The government could have achieved its goal if it had provided free flour two to three times a month from the nearest store using the ration card. The weak, sick, women and disabled individuals could have been provided with flour at their homes, with dignity and convenience.
It would have been better if the government had delivered flour to the streets and neighborhoods or kept it in shops. I urge the government to put in place an efficient mechanism for the distribution of flour so that people can easily obtain it in a dignified manner and avoid further trouble.
After all, we have been taught since childhood that Pakistan is an agricultural country. If so, why is there not enough wheat for the poor in this agricultural country?
Nazia is a graduate and a blogger.
Hits: 9