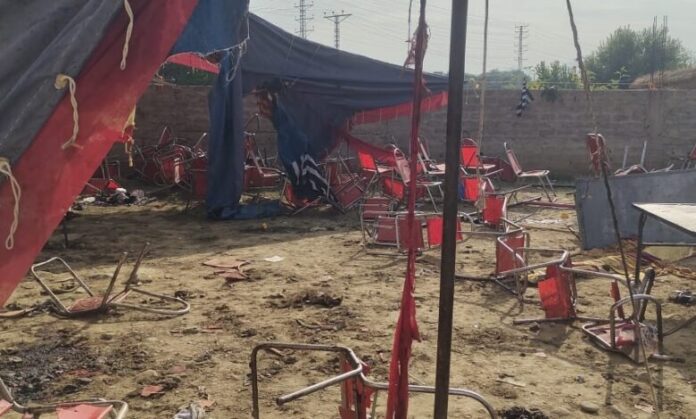 Zahid Jan
In the aftermath of the July 30 suicide attack in Bajaur district, a heart-wrenching tale of loss unfolds. Gul Badshah, a father from the Rehmanabad area of Khar Tehsil, Bajaur District, had to bear the unbearable as three precious lives were taken from his household. His two sons, Kaleemullah and Nasibullah, along with his nephew Abbas, tragically lost their lives in the devastating blast. Another son, Ibadullah, who was attending a seminary, was severely injured in the attack.
Gul Badshah, a humble bean (or chickpeas) seller in Haripur Hattar District, had persevered through poverty to ensure his sons received an education. Kaleemullah, a 16-year-old student in class 9, and Nasibullah, a 10-year-old student in class 5, had dreams of a bright future. Abbas, his 19-year-old nephew, was also a promising student in class 5.
Also Read: Social Worker Alleges Police Misconduct in Mardan Outpost
The blast shattered Gul Badshah's hopes and dreams, leaving him grief-stricken and financially burdened. At the time of the tragedy, he had already sent all his money for the children's school fees. With no means to cover the expenses, friends in Haripur came together and collected 8000 rupees to help him make the journey back home to Bajaur.
During the agonizing journey, Gul Badshah learned of the heartbreaking news of his elder son Kaleemullah's death through a stranger's mobile phone. The reality of the loss overwhelmed him, and upon reaching home, he faced the devastating scene of mourning and grief.
Gul Badshah spoke of his aspirations for his sons, dreaming of making Kaleemullah a doctor and Nasibullah an engineer. But terrorism has robbed him of those dreams, leaving him with an immeasurable void in his heart.
The tragic attack on the JUI workers' convention in Bajaur claimed the lives of 56 people, leaving countless families in sorrow and despair. The pain of loss is a burden that these grieving families will carry for a lifetime.
Hits: 12