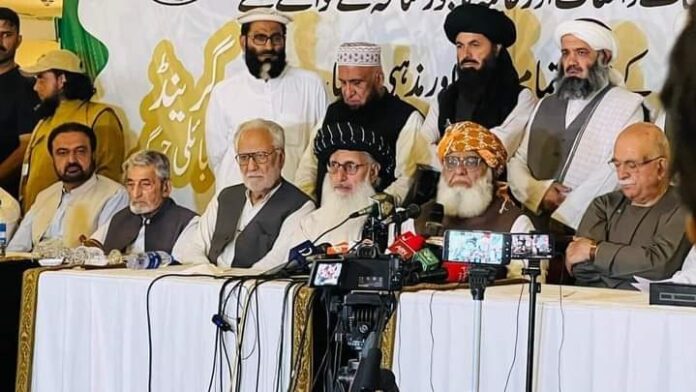 During the JUI Grand Jirga held in Peshawar to address the Bajaur tragedy, Maulana Fazl ur Rehman emphasized the significance of unity among the participants, saying that different analyses and suggestions were presented, each individual holding their own opinions, but the outcome must be united.
Maulana Fazl ur Rehman acknowledged the historical struggle, sacrifices, and bloodshed that have shaped the land's history, and expressed concern over the recent events that have damaged the nation's hard-earned progress. He also visited the injured victims of the Bajaur blast and praised the dedication of their workers.
The Grand Jirga deeply mourned the Bajaur blast and strongly condemned the Police Line, Tehsil Bara, and Ali Masjid blasts. They regarded these incidents as clear acts of terrorism against the country, threatening its stability through conspiracies. The Jirga was dissatisfied with the actions taken against the terrorists and urged state bodies to collaborate with political parties in formulating an action plan.
Also Read: PTI Leader Faces Re-Arrest Amidst Legal Tangle
Maulana Fazl ur Rehman announced the proposal to convene an all-party conference to address the country's situation and called for stringent actions against those involved in the May 9 incidents.
Referring to the 2018 elections, he reminded everyone that despite being rivals, they stood united for the betterment of the country. The JUI chief announced the upcoming meeting of the central council of JUI and expressed his commitment to creating an environment conducive to political engagement. The nation stands united against terrorism.
Regarding the government, Maulana Fazl ur Rahman stated that they will step down on August 9, and the caretaker government will conduct the upcoming elections. He emphasized the importance of institutions making collective decisions and clarified their stance on violence, stating that they no longer support taking up arms against individuals who commit suicide, as it is an illegal act.
Hits: 10