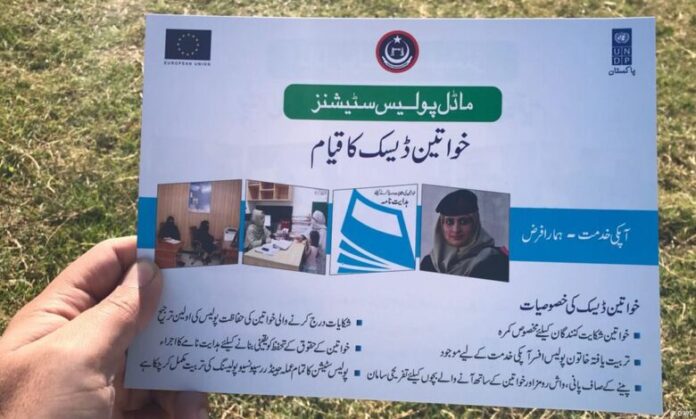 Haroon ur Rasheed
Special desks established in various police stations across Khyber Pakhtunkhwa to cater to the needs of women, transgender individuals, and senior citizens have remained inactive for the past seven months, primarily due to a lack of interest within the police department and an insufficient number of female police officers.
Statistics acquired from the police force further underscore the shortage of female police officers in the region. For instance, in Peshawar, a city with a population of 4.7 million, there are only 95 female police officers, out of which merely 15 are stationed at police stations.
The dearth of women officers not only hampers the effectiveness of the special desks but also results in delayed processing of cases, leaving victims in limbo.
Also Read: NEPRA Approves Electricity Price Hike After Federal Government's Nod
Abida Bibi, a resident of Peshawar's Hayatabad area, shared her experience at the Hayatabad police station's special desk. She attempted to register a complaint regarding her inheritance dispute but was informed by police staff that the special desk only operates until 2 p.m. Consequently, she had to seek assistance from male officers to file her complaint, yet even after 25 days, her grievance had seen no progress.
Similarly, the mother of Sana, a murder victim on Peshawar's Ring Road two years ago, visits the Special Desk at Shahpur police station regularly. However, according to her, her pleas go unheeded, and she is met with indifference.
Arzoo, president of the Transgender Association in Peshawar, expressed disappointment with the special desk's performance, labeling it a failure and a source of nightmares for both transgender individuals and women at large. Arzoo lamented the police's longstanding failure to address their concerns and their recent reneging on promises to facilitate them through the special desk.
Responding to these complaints, IG Khyber Pakhtunkhwa, and Akhtar Hayat Khan, asserted that special desks are still operational in major districts of the province, including Peshawar, Mardan, and Mansehra. He emphasized the police force's commitment to inclusivity and cited the deployment of more female officers throughout the province to handle women and transgender individuals' complaints. Additionally, a woman police officer has been appointed as the District Battagram police chief.
Regarding the complaints from women and transgender individuals about the special desk's inefficiency, the IG assured that their concerns are being addressed with utmost priority.