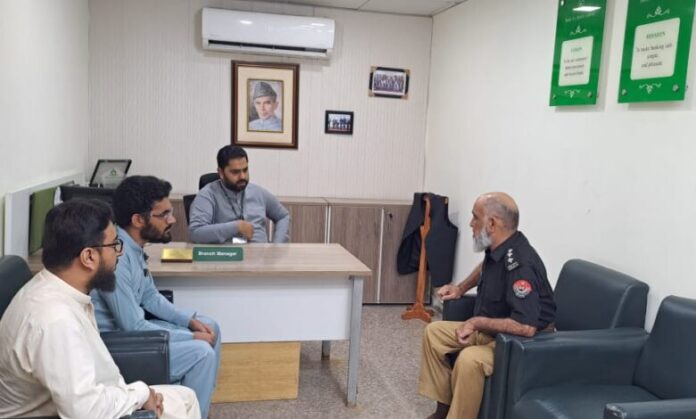 Private banks in Tank, a district in southern Khyber Pakhtunkhwa, have temporarily suspended their services due to security apprehensions. This closure has led to substantial hardships for consumers and impeded business transactions. Notices declaring a three-day bank closure were prominently displayed at the entrances, while even the ATM machines remained inaccessible.
Upon inquiry, a bank security guard revealed that the shutdown was a response to an attack on a private bank just two days ago.
An employee from Al Habib, a private bank, informed TNN that all banks had received threats a fortnight ago. The recent attack on a private bank escalated concerns, leading to a three-day temporary closure directive from the head office. The police have been alerted about the potential targeting of banks in Tank.
Also Read: Property Dispute Turns Tragic: Four Brothers Fatally Shot in Swabi
Conversely, the district police of Tank have taken proactive measures to evaluate the security arrangements of various public and private banks in response to the recent threats.
In light of the elevated threats and terrorism incidents, DSP Headquarters Tank, Abdul Rasheed Khan, accompanied by Additional SHO Police Station City, Mehtab Khan, conducted thorough security assessments at both public and private banks within Tank City. This evaluation was carried out in alignment with higher officers' directives.
During the assessment, meetings were held with bank managers, briefing them about existing risks and concerns. Immediate reporting to the police during emergencies was stressed.
The DSP also examined emergency alarm systems, SOS call alerts, and concealed camera installations in banks. He emphasized the need to keep these security measures active around the clock and ensure diligent monitoring.
Likewise, he scrutinized security provisions for private security guards, including police officers responsible for bank security. Their role was underscored, with practical exercises on proper weapon handling and seeking cover in emergencies.
The DSP headquarters issued directives for prompt communication with the police in emergency scenarios, responsible weapon usage, and vigilant presence at the bank's premises. Additionally, he instructed courteous interactions when inspecting individuals entering the bank and assured complete cooperation from the district police.
It's worth noting that two days prior, unidentified assailants targeted a private bank in Tank's main market. This resulted in the immediate death of Police Constable Riaz Betni and the injury of a security guard.
Expressing dismay over the bank closures, a local businessman shared concerns about the negative impact on the business community. He appealed to the government to address the situation promptly, enabling the resumption of regular business activities.
Hits: 9