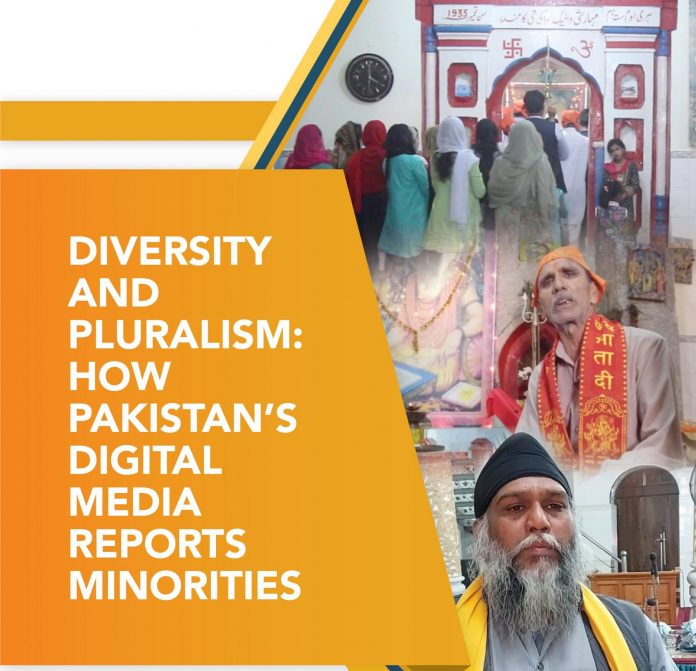 Islamabad: Pakistan's non-legacy, digital native media outlets outperformed the digital arms of legacy media houses in providing news coverage to the country's marginalised religious minorities, according to a new study published by Institute for Research, Advocacy and Development (IRADA).
The study titled "Diversity and Pluralism: How Pakistan's Digital Media Reports Minorities" was published by IRADA. The research provides a comparative analysis of the news coverage of Pakistani religious minorities provided by online websites of legacy news publications and non-legacy (or digital native) news media outlets.
The research shows that non-legacy digital media produced more in-depth news stories, featured more sources from minority communities, included more women sources, and offered solutions to problems more often than their legacy counterparts in reporting about religious minorities. Muhammad Aftab Alam, the Executive Director of IRADA, said the report validates earlier trends that small and medium-sized digital journalism startups are clearly more committed to independent public interest journalism in Pakistan than the traditional big media houses.
"The research evidence demonstrates that digital journalism startups reflect Pakistan's diversity and pluralism in their news while also maintaining quality and ethical standards despite their limited resources," he said. "It is important to support these efforts to ensure that the news coverage also brings meaningful change in the lives of local communities whose voices and issues are being shared." the study adds.
The content evaluation was done using nine indicators pertaining to public interest, journalism quality and diversity. The research sample covered a period of three months in 2022 and included 61 stories published by five legacy media websites (Dawn, The News, Express Tribune, Nawai Waqt, and Dunya) and 67 stories produced by 11 member news outlets of the Digital Media Alliance of Pakistan (DigiMAP), which is a collective of digital journalism startups geared toward public interest journalism.
The research study shows that: Non-legacy digital news media outlets provided more enterprising coverage: Exclusive news stories that proactively explored the lives of religious minorities made up around 95 percent of the sampled output of non-legacy digital news media outlets. In comparison, only 10 percent of the legacy news media's coverage consisted of exclusive reporting.
Non-legacy digital news media outlets amplified minority voices: An overwhelming majority of the non-legacy digital news media content included quotes from minority sources (91 percent) and relied on minority sources as subject experts (79 percent). In comparison, more than half of the stories by legacy digital news media outlets (53 percent) did not quote a representative of the religious minorities they covered.
More work needed for gender sensitive coverage: Stories done by the non-legacy digital news media outlets included the voices of more women than the stories produced by the legacy digital news media outlets did. Around 46 percent stories by the former included women sources compared to only 15 percent by the latter. The study, though, shows that both types of outlets need to improve their gender focus.
Digital journalism failed to hold government accountable: Even though the stories were about rights violations and minority community needs, only a third of the stories about religious minorities published by the non-legacy digital news media outlets included accountability responses from government officials while only a quarter of the legacy digital news media stories did the same.
Non-legacy digital news media showed minorities as victims but also offered solutions: A
majority of the stories produced by the non-legacy news media outlets (around 80 percent) showed the minority communities as victims or helpless. But a majority of their stories (81 percent) also offered solutions to the problems faced by the minorities. A majority of legacy digital news media stories also showed minorities as victims (59 per cent) but only less than half of their stories (43 percent) offered solutions.
The study recommends several steps to improve the diversity and pluralism in public interest news coverage of religious minorities and other marginalized groups in Pakistan. These recommendations include balancing the coverage of challenges with stories of opportunities, engaging journalists from minority communities, increasing gender diversity in newsrooms, and developing investigations around the implementation of a 2014 Supreme Court judgment about the rights of religious minorities.
This Report is available on: https://irada.org.pk/wp-content/uploads/2023/01/Digital-Media-and-Diversity-2022F.pdf
Hits: 44