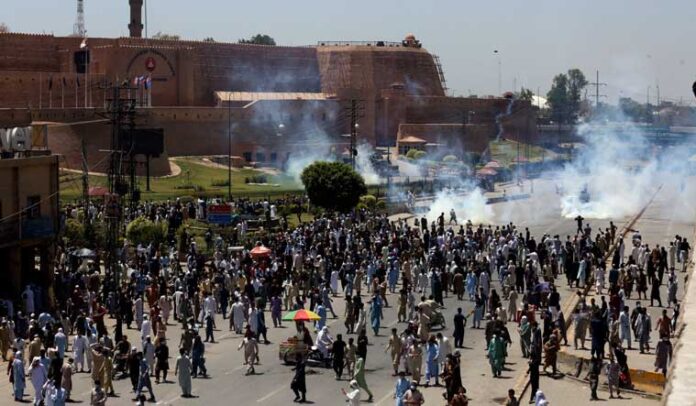 The involvement of former members of Pakistan Tehreek-e-Insaaf (PTI) in the violent incidents that took place on May 9 and 10 in Peshawar has been revealed in a geofencing report.
The geofencing report sheds light on the communication patterns during violent incidents in Peshawar. It reveals that former MPs and party leaders were in contact with the violent protesters during the protests on May 9 and 10.
A Joint Investigation Team (JIT) was formed to investigate the violent protesters, and the police and intelligence agencies have compiled various reports, including geofencing data, as part of their investigation.
Also Read: Public Expresses Mixed Reactions to Government's Fuel Price Reduction
The geofencing report shows that local PTI leaders and former MPs were in touch with the violent activists through different mobile towers. The names of former MPA Fazal Elahi, Malik Wajid, Peer Fida Muhammad, and former District Nazim Asim Khan have been mentioned in the geofencing report. Other PTI local leaders, such as Meena Khan Afridi, Abdul Wajid, Hidayat Khalil, Farid Gul, and others, are also included in the report.
According to the Capital City Police Officer (CCPO), cases have been registered against the violent PTI protesters, and the named individuals will be arrested based on the information received.
The protests and demonstrations took place across the country following the arrest of Tehreek-e-Insaf Chairman Imran Khan on May 9. During these protests, government properties and military installations were targeted in Khyber Pakhtunkhwa and Punjab. In Peshawar, agitators attacked the Radio Pakistan building, setting it on fire after vandalizing it. Additionally, around 1,200 to 1,300 people fired at the Bala Hisar Fort, resulting in the loss of four lives and 34 injuries.
Hits: 26