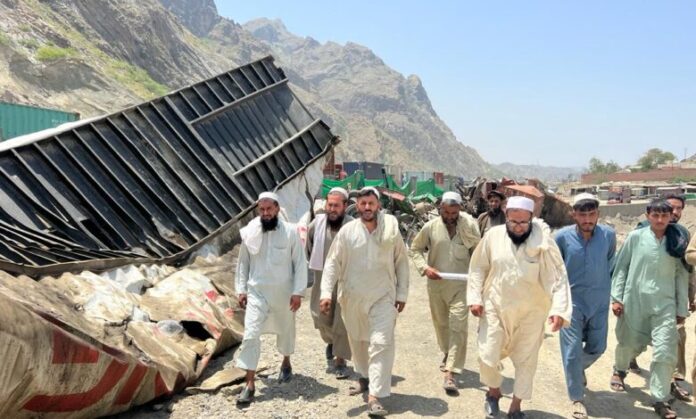 Relatives and transporters of the individuals who lost their lives in a landslide incident at the Torkham border in Khyber Pakhtunkhwa district have established a protest camp, seeking compensation for the damages incurred.
The protest has seen the participation of customs clearance agents and local leaders, all of whom are demanding immediate government action to repair the damages.
To show solidarity with the transporters from Afghanistan at the Torkham border, the President of the Transporters Union, Shinwari tribal leaders, customs clearance agents, and drivers of other vehicles have gathered in significant numbers.
Also Read: Tragic Honor Killing Claims Lives of Young Girl and Boy in Mansehra
During the event, Haji Azimullah Shinwari, President of the Torkham Transport Union, Mirajuddin Shinwari, Chairman of Customs Clearance Agents, Senior Vice President Haji Yadullah Shinwari, Haji Bakhtiar Khan of Afghanistan Transport, and other transporters pleaded with the Khyber Pakhtunkhwa government officials and Governor Haji Ghulam Ali. They demanded immediate compensation for the transporters affected by the Torkham incident, emphasizing the substantial financial losses incurred.
"The accident resulted in the burial of 20 trailers under debris and claimed the lives of 8 people. It was a massive tragedy, yet the government has taken no action," stated Haji Azimullah Shinwari.
He further highlighted that the governor had promised to support the transporters during his visit, and now it was crucial for him to fulfill his commitment and address the losses suffered by the transporters.
He added that the affected transporters are unable to afford the expenses of removing the scrap, and they require financial assistance to repair and restore their vehicles. The protest will persist until the government provides an assurance and takes concrete steps to address their concerns, he reiterated.
It should be noted that during the month of Ramadan, mud fell on the containers at Torkham, resulting in a fire that claimed the lives of 8 people and caused significant damage to numerous containers.
Hits: 16