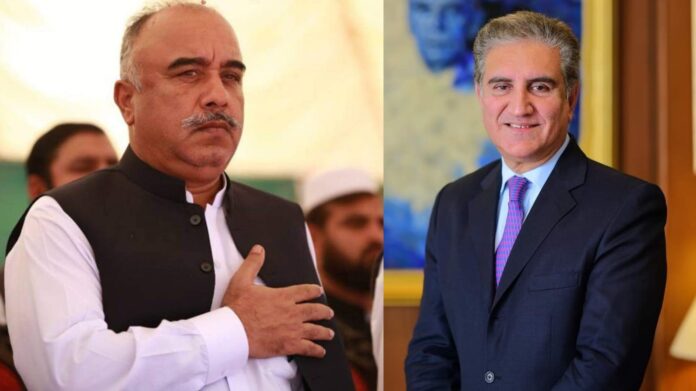 The Pakistan Tehreek-e-Insaf (PTI) party has recently been hit by two significant developments involving prominent leaders.
Vice Chairman Shah Mehmood Qureshi's arrest by the Federal Investigation Agency (FIA) and former Khyber Pakhtunkhwa Governor Shah Farman's decision to step away from electoral politics have caused ripples within the party's ranks.
Shah Mehmood Qureshi's Arrest
Pakistan Tehreek-e-Insaf's Vice Chairman, Shah Mehmood Qureshi, finds himself in legal turmoil as he has been taken into custody. Reliable sources report that the FIA apprehended Qureshi at his residence in Islamabad.
The party has officially confirmed his arrest, revealing that the incident occurred shortly after Qureshi's press conference at the National Press Club in Islamabad. The vice chairman, upon returning home, was detained by a sizable contingent of law enforcement officers.
Also Read: Former Ministers Cling to Official Luxury Cars in Khyber Pakhtunkhwa
Insiders speculate that Qureshi's arrest is linked to the cipher-related issue, shedding light on the intricate legal web he is now entangled in. Currently, he is en route to the FIA headquarters, where further legal proceedings will unfold.
Shah Farman's Exit from Electoral Politics
Adding to the PTI's recent challenges, Shah Farman, the former Governor of Khyber Pakhtunkhwa and a senior party leader, has announced his departure from active engagement in electoral politics.
In a video statement, Farman unveiled his concerns about an alleged conspiracy against him within the party's ranks. He assured the public that he intends to relinquish his electoral constituency, providing an opportunity for dedicated party workers to participate. Furthermore, Farman emphasized that none of his family members will partake in any future elections.
Echoing a widespread concern within the party, Farman addressed the issue of financial gains, asserting that some individuals have accumulated substantial wealth through questionable means. He revealed that during a core committee meeting, baseless accusations of treason were directed at him and two other leaders, Shaukat Yousafzai and Faisal Saleem, who were wrongly accused despite not being core committee members.
Shah Farman's withdrawal from electoral politics comes in the wake of his steadfast support for Prime Minister Imran Khan during the events of May 9. Farman expressed disappointment over certain party leaders who, he claims, prioritized personal gain and corruption during their tenure in government, detracting from the hard work of dedicated party members.
In a recorded statement, Farman alluded to widespread money laundering during the party's time in power, implicating influential leaders allegedly involved in a conspiracy against him. He vowed to reveal these individuals.
Highlighting instances of conspicuous wealth accumulation, Farman disclosed that certain leaders have acquired multiple properties in Europe and the UK. Emphasizing his commitment to principles over personal gains, he reiterated that politics is not a profession or income source for his family, leading to his decision to vacate the electoral constituency for the benefit of party workers.
Farman also called upon fellow PTI leaders to consider similar actions, urging them to leave their constituencies open for dedicated party workers.
Hits: 9